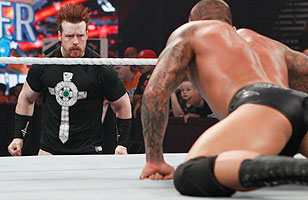 WWE Champion Sheamus stares down his SummerSlam rival, Randy Orton, but thinks better of attacking.
Randy Orton def. United States Champion The Miz in a Non-title Match
SAN ANTONIO, Texas – It's the dog days of summer, and with SummerSlam just two weeks away, the Raw roster certainly seems to be feeling the heat. While WWE Champion Sheamus tries to escape the glare of his cold-blooded competitor, Randy Orton, Team WWE continues to tear themselves apart.
Randy Orton def. United States Champion The Miz in a Non-Title Match
Randy Orton ruined everything – at least according to The Miz. The United States Champion complained before their match that he would also hold the WWE Title, if not for that meddling Viper, who RKO'd him last week before he could cash in his Money in the Bank contract on a dazed WWE Champion Sheamus.
During their bout, with The Celtic Warrior scouting from ringside, Miz offered a convincing case for himself to reign as WWE Champion. However, it was The Viper who would eventually outmaneuver Mr. Money in the Bank to score yet another victory on the path to his WWE Title Match at SummerSlam.
After his win, Orton appeared confident – perhaps overly so. He even dared Sheamus to enter the ring with him, but the Irishman begged off, possibly still smarting from an RKO he received after gunning for his cold-blooded adversary the previous week. Or perhaps the Irishman is simply biding his time until he can skin the snake once and for all.
The Great Khali def. Ted DiBiase
Earlier in the evening, Michael Tarver and David Otunga had informed The Great Khali that Ted DiBiase was attempting to replace him and buy his way onto Team WWE. The pair even tried to convince Khali to join The Nexus. While the charm offensive failed, a seed was nonetheless planted.
Hoping to water that seed, Wade Barrett and Skip Sheffield perched themselves ringside as Khali faced off against DiBiase. When it appeared The "Fortunate Son" had opened a window of opportunity, Barrett and Sheffield slammed it shut, distracting DiBiase. The ploy allowed The Punjabi Playboy to capitalize for the win. While he basked in the glow of victory, Khali even appeared appreciative of The Nexus' ongoing efforts, which may signal further trouble for Team WWE at SummerSlam.
John Cena & Bret Hart to face Chris Jericho & Edge
In the wake of the further implosion of Team WWE, Raw's anonymous GM arranged a tag team match for the following Monday, pitting John Cena & WWE Hall of Famer Bret Hart against their former SummerSlam teammates Chris Jericho & Edge, who appear to have reconnected over their mutual disdain for Cena, The Nexus and the WWE Universe. Oh, and if the tension wasn't high enough, all seven members of The Nexus will encircle the ring to act as lumberjacks!
John Cena def. Chris Jericho
Apparently, Chris Jericho wasn't really all that interested in leading Team WWE after all. Why else would he tap out the second John Cena locked him into an STF during their Loser Leaves SummerSlam Team Match? For the self-important Superstar, being free from Cena appeared more important than winning. To his credit, Cena offered to forget the entire episode in an effort to rebuild Team WWE. Selfish as ever, though, Jericho rejected the olive branch and abandoned his teammates.
WWE Champion Sheamus def. Goldust (PHOTOS | WATCH)
What a difference a year makes. In 2009, Goldust peppered Sheamus with aggression and skill when the two were in ECW. In their match tonight, however, the WWE Champion won easily, asserting his dominance – and then some. After the win, the Irishman ranted about having ended Triple H's career and then proceeded to threaten to do the same to his SummerSlam foe, Randy Orton.
Divas Champion Alicia Fox, Jillian & Tamina def. Eve, Gail Kim & Natalya; Melina returned and attacked Alicia
Alicia Fox's hot streak just ran headlong into cold, harsh reality. The Divas Champ had teamed with Jillian & Tamina to face Eve, Gail Kim & Natalya. After watching Tamina save her bacon, Alicia seized the baton and took credit for her team's win. Her selfish exploits backfired, though, when a returning Diva paid a visit: Melina! The brunette beauty attacked Alicia, sending the message that she's back and hungry. And when the Divas Champ tried to escape Melina, her fellow Divas forced her back in, where the striking Latina punished her and, undoubtedly, sent a chill up her spine.
Edge quit Team WWE; Chris Jericho challenged John Cena
An inconsolable Edge confronted John Cena in the locker room area after The Nexus cornered him during his loss to Wade Barrett. During the war of words, The Ultimate Opportunist quit Team WWE, complaining to Cena that his teammates did not involve themselves in his match. This, after he had previously insisted that his teammates not involve themselves. Yeah, you read that correctly.
Still reeling from Edge's abrupt departure, Cena was then confronted by Chris Jericho. The self-important Superstar demanded that the two face each other later in the night, with the loser leaving Team WWE. Despite his protestations, Cena reluctantly agreed.
Wade Barrett vs. Edge ended in a No Contest
After Team WWE cracked under the strains of infighting last week, Edge felt compelled to voice his frustration. He went rogue, belittling his SummerSlam team and challenging Wade Barrett to a singles match. Before the leader of The Nexus could respond, Edge's SummerSlam teammate R-Truth tried to talk sense into him, emphasizing the need for unity. Raw's anonymous General Manager interrupted Truth, however, and quickly granted The Rated-R Superstar's request.
During the bout, Edge nearly scored a pinfall on Barrett, who immediately signaled for his Nexus comrades. Slinking toward the ring, the remaining Nexus members closed in on The Rated-R Superstar, who leaped a security barrier, scampered off into the crowd.