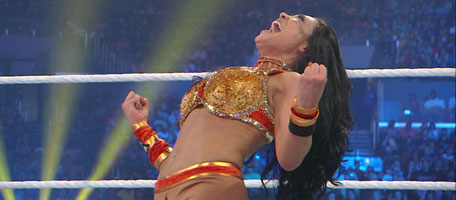 LOS ANGELES — Only two weeks after returning from a devastating leg injury that put her on the sidelines for eight months, Melina showed the WWE Universe that she hasn't lost a step by defeating Divas Champion Alicia Fox at SummerSlam to reclaim the title she was forced to vacate nearly a year ago. (PHOTOS)
Competing in her hometown of Los Angeles, the lovely Latina showed no signs of ring rust as she battered the ferocious Fox with her unique style of wildly athletic offense. Although The Foxy Floridian is a force to be reckoned with in her own right, she simply couldn't counter Melina's desire and passion to win and ultimately fell to Raw's scream queen.
The beauty's championship celebration wouldn't last long, however. Within moments of grasping the title, Melina was interrupted by the self-professed co-Women's Champions, Layla and Michelle McCool. The Team Lay-Cool vixens let the new Divas Champion know that they were the only women who mattered in WWE and told her to leave the ring. Although she was outnumbered, Melina was not about to allow these mean girls to ruin her moment and attacked the pugnacious pair, but ended up on the receiving end of a harsh beating.
Still, despite Team Lay-Cool's rude interruption, Melina's amazing victory cannot be overlooked. It was only two weeks ago that the gorgeous grappler made a surprising return to Raw to put the arrogant Alicia Fox in her place and she is already back on top of the division.
But with Simply Flawless targeting her and Fox already gunning for a rematch, Melina is quickly remembering that the top is the most dangerous place to be in WWE. And the Divas Champion wouldn't have it any other way.
Click here to find out more!
Pay-Per-View Schedules