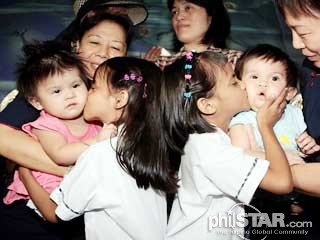 MANILA, Philippines – They left as one, they came home as two. Rose Carmel and Rose Carmelette Molit, twins once conjoined at the hips, came home recently from Taiwan where they underwent a P2.8 M operation through the help of Buddhist Tzu Chi Foundation.
The twins, who turned 10 months old yesterday, can now crawl and roll like normal babies. The surgery was done on June 5.
"They're now more comfortable and they no longer have difficulty moving," the twins' mother Emile told members of the media last Thursday.
Natives of Cebu, the Molit couple's modest income would not have been able to make the operation possible. Emile works as a high school teacher while her husband is a factory worker.
The Molits met the volunteers of Tzu Chi Foundation through the town mayor of Catmon, Cebu. On March 30, the twins flew to Taiwan with their mother after the foundation's Master Cheng Yen gave her blessing for the operation.
Before the operation, the twins underwent a tissue-expansion procedure to stimulate skin growth in preparation for the surgery. The operation also included a colostomy to provide an artificial rectum for one of the twins.
About two months after their surgery, the sisters have regained their appetite and are quite active.
Their mother said taking care of the two girls has become easier now that they have been separated. She cited instances in the past when one of the girls would be awakened when the other would cry or move in the middle of the night.
According to Emile, there has been no complication experienced by her daughters since the operation. Even their first defecation happened without any problem.
But she said the two girls will still have to undergo rehabilitation, since they both have scoliosis.
"Let us give these twins our sincere prayers. They have now been saved from having to live their lives conjoined and now, we earnestly give them our best wishes. We hope they will go on to lead good meaningful lives and live out the value of life by in turn helping others in need," Chen Yen, a Ramon Magsaysay Awardee, said in a statement.
The Molit sisters is the second pair of twins supported by the foundation. Back in 2003, Rachel and Lea Awel from Kalinga Apayao, who were born conjoined at the stomach and chest, were separated through the support of Tzu Chi Foundation.
The Awel twins are now Grade 1 pupils at the Philippine Buddhacare Academy as scholars of Tzu Chi Foundation.
Founded by Cheng Yen, Tzu Chi Foundation has some 10 million members in 52 countries all over the world. In the Philippines, it claims 37,000 members.