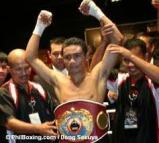 MANILA, Philippines—The issue of drugs tests has surfaced after it was discovered that there was no postfight urine test after WBO minimumweight champion Donnie Nietes successfully defended his title against a surprisingly resilient challenger Mario Rodriguez last week in Guasave, Sinaloa, Mexico.
Nietes jokingly remarked in an interview with the Inquirer that no matter how he hammered Rodriguez with uppercuts and overhand rights, "he was still there as though he had taken steroids."
Reacting to a report on the absence of the postfight urine test, World Boxing Council president Don Jose Sulaiman declared that "to reach agreements to avoid anti-doping tests is a flagrant violation of boxing rules and a danger to boxers."
Dentist Ed de la Vega, Nietes' cut-man, had reported that both sides had agreed to forego the postfight urine tests to save $2,000 which each fighter had to pay.
However, international matchmaker/promoter Sampson Lewkowicz clarified that the amount was in Mexican pesos, which is about $200 and that, under the rules, it's the promoter who should bear the cost, not the fighters.
Both Lewkowicz and WBO Asia Pacific head Leon Panoncillo pointed out that under WBO rules, urine tests were not mandatory.
Lewkowicz cited another portion of WBO by-laws which state that "both camps must agree on the decision to submit to the postfight urine test which both camps agreed not to do" in the Nietes-Rodriguez fight.
ALA Promotions patron Tony Aldeguer was upset over the absence of a post-fight urine test and said that he had instructed vice president Dennis Canete, who was at the rules meeting, to make sure that such a requirement is included in the fight contracts of their boxers in the future.
Lewkowicz conceded it was his "recommendation not to go through with the postfight urine test because I said both fighters look like two clean cut athletes and had no problem in making weight."
The matchmaker indicated that based on his experience of so many years of being involved in world title fights that "in extreme heat it could possibly take several hours to rehydrate the fighter and be able to produce a urine specimen and it would not be fair for them to remain in that hot stadium any longer that they needed to."
source:m.inquirer