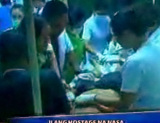 The death toll from Monday's bloody hostage crisis in Manila rose to 10 as of early Tuesday, with another hostage succumbing to injuries in a Manila hospital.
Radio dzBB reported one of the latest fatalities was a woman who died at the San Juan de Dios Hospital, initially identified only as Doris.
At least three other hostages were declared dead at the Ospital ng Maynila, four at the Manila Doctors Hospital, and one at the Philippine General Hospital.
The Statement of the Chinese Government on Philippine Hostage Crisis
The Chinese Government strongly condemns the atrocity by the hostage-taker, expresses grave condolences to the victimized Hong Kong compatriots and conveys profound sympathy to the bereaved families.
The Chinese Government has decided to send a working team to the Philippines to deal with the aftermath. The related authorities of China will keep close contact with the Philippine side and the Government of the Hong Kong Special Administrative Region, exert the utmost to save the injured and properly deal with the aftermath.
The Chinese side has urged the Philippine side to take concrete measures to ensure the safety and security of the Chinese citizens in the Philippines.
The tenth fatality was the hostage taker himself, dismissed Senior Inspector Rolando Mendoza.
On the other hand, at least six hostages were still being treated in other hospitals in Manila.
For more than 11 hours Monday, Mendoza attracted international attention by holding hostage at least 15 tourists from Hong Kong hostage. [See: Hostage crisis ends in bloody carnage; 8 hostages dead]
He had demanded that criminal charges earlier filed against him be dropped, and he be reinstated to the police service.
Monday's incident drew sharp criticism against the police's handling of the case.
President Benigno Aquino III himself said he was not satisfied with the way the incident was handled.
Even the business community was also not pleased with the bloody way the incident ended, according to a report by dzBB's Denver Trinidad.
Mendoza 'ready to die'
Mendoza, interviewed on Radio Mindanao Network shortly before he was killed Monday evening, had said he was ready to die.
He even warned snipers in the area he would not hesitate to "execute" hostages if authorities won't heed to his demands.