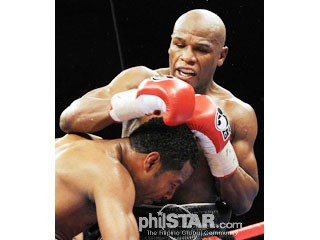 MANILA, Philippines – Floyd Mayweather Jr.'s fans most of whom have already given up on expecting to see the fighter back in action again this year, might be proven wrong this time.
This came after Robin Leach, writing for the Las Vegas Weekly, claimed that Mayweather personally told him he'll be returning to the ring "very soon."
Mayweather, holder of a sterling 41-0 (with 25 knockouts) record and a serious threat to the pound-for-pound title currently occupied by Manny Pacquiao, initially announced he will be taking the rest of the year off without citing any specific reasons.
But Leach, an English celebrity writer and television host who had a chance encounter with Mayweather in Southern California over the weekend, said otherwise. According to him, Mayweather personally told him: "We'll announce it (the fight) very soon."
Mayweather's choice of venue for the said fight is even more startling.
"But this time it won't be in Vegas. It will be in another desert kingdom: Dubai," he added.
Mayweather did not specify his next opponent, Leach added
Mayweather, a Grand Rapids, Michigan-born fighter now based in Las Vegas, has fought his last six fights in the world's gambling capital. His last outing was an impressive unanimous decision victory over Shane Mosley at the MGM Grand last May.
source:mb