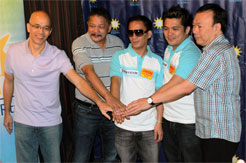 The sight of Francisco "Django" Bustamante hoisting his partner and buddy, Efren "Bata" Reyes, proved to be a savoring moment for Filipino billiards fans last year.
The two biggest draw of local pool will give their fans another treat as they defend their crown in the World Cup of Pool at the Robinson's Place Midtown Wing in Ermita, Manila on September 7.
The tournament features 64 world-class players from Asia, Europe, and America.
Filipino billiard players Efren "Bata" Reyes (from second left), Dennis Orcollo and Roberto Gomez join Solar Sports executives Peter Chanliong (left) and Wilson Tieng during Wednesday's press launch at the Solar Century Tower in Makati City. Jeff Venancio
The Reyes-Bustamante tandem, both world champions, will seek their third title in this event. The Filipino bets pulled off a dramatic come-from-behind 11-9 victory over the pair of German cue artists, Ralf Souquet and Thorsten Hohmann, at the SM North Edsa in Quezon City last year.
Reyes and Bustamante first won the event four years ago at the Newport Centre, Newport, Wales, by beating US players Earl Strickland and Rodney Morris, 13-5.
"It's hard to say if we can do it again," said Reyes, referring to their chances of making it back-to-back. "Age is catching up on us while the other competitors have also prepared in this tournament."
Reyes and Bustamante were joined in Wednesday's press launch at the Solar Century Tower in Makati City by two other Pinoy bets – Dennis Orcollo and Roberto Gomez – who will form the second team from the host country – as well as Solar Sports executives Wilson Tieng and Peter Chanliong.
Out to spoil Reyes and Bustamante's bid as early as the first day is the Thai duo of Nitiwat Kanjanasri and Surathep Phoochalam, who pulled off a king-sized 7-4 upset victory over their much heralded counterparts in last year's 9-ball doubles competition in the Laos Southeast Asian Games.
"They're not that strong enough, but they still beat us," said. Reyes. "This game needs a lot of luck. We cannot say if we can exact vengeance against them, but we will do everything to win."
Orcollo will have a new partner in Gomez, the former World 9-Ball Pool runner-up.
Orcollo was previously paired with double world champion Ronnie Alcano. He sees his partnership with Gomez as a "new challenge" in this competition joined in by some of the world's best players.
Germany and Chinese Taipei are expected to crowd the hometown bets for this year's title with Souquet being partnered this time with former world straight ball champion Oliver Ortmann while former two-time world junior champion Ko Pin-yi of Chinese-Taipei will play alongside Chang Jung-lin, a former winner in the Guinness 9-Ball event.
Other notable competitors in this event include world No.1 player and reigning World 10-Ball champion Mika Immonen of Finland, who will be partnered with Markus Juva; top lady player Jasmin Ouschan of Austria, who will be paired with Mario He; the Chinese connection of Fu Jianbo and Li Hewen; Daryl Peach and Karl Boyes of Great Britain; Niels Feijen and Huidji See of Holland; Naoyuki Oi and Toru Kuribayashi of Japan; Yu Ram Chaand Ga Young Kim of Korea; Marcus Chamat and Thomas Mehtala from Sweden; and Rodney Morris and Johnny Archer from the USA.
A total of $250,000 pot will be at stake in this six-day event with the champion receiving $60,000. The runner-up pair takes home $30,000 while the semifinalists will get $16,000 each. - JVP, RCJ, GMANews.TV