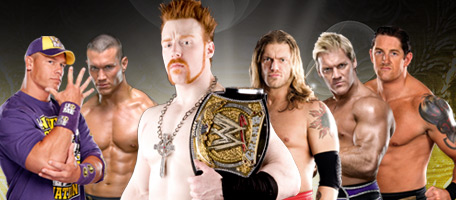 At one of WWE's most prestigious pay-per-views, Night of Champions, Sheamus must defend his coveted WWE Title in a Six Pack Challenge against five of Raw's top Superstars: John Cena, Randy Orton, Edge, Chris Jericho and Nexus leader Wade Barrett.
The rules of a Six Pack Challenge are simple: A sextet of Superstars faces off in the ring, with victory determined by a single pinfall or submission. This means that Sheamus does not need to be pinned or submit to lose the WWE Title in this match.
After successfully retaining his title at SummerSlam (though Randy Orton won via disqualification), The Celtic Warrior has more than once felt the venomous wrath of The Viper. In response to this continued brutality, a frustrated Sheamus addressed the WWE Universe on Raw, urging the anonymous General Manager to deny Orton a rematch as punishment for WWE's Apex Predator's animalistic aggression.
Agreeing that Sheamus deserves more respect than he's been receiving – both from Orton and from the WWE Universe – the GM let the irritable Irishman sit atop a throne for the evening to survey a series of matches. At the end of the night, he would hand-pick his Night of Champions opponent.
Sheamus tried to take advantage of the GM's generosity, ultimately deciding to take a month-long respite from competition. However, the devious Dubliner was immediately met with a surprise announcement from the anonymous head of Raw: At Night of Champions, Sheamus will defend his title in a high-jeopardy Six Pack Challenge against four deserving former World Champions – Cena, Orton, Edge and Jericho – as well as Barrett, now allowed to pursue the WWE Championship after the Raw GM lifted The Nexus' title match ban. Now that the season one NXT winner is in the hunt for his first WWE Title, the truce between The Nexus and The Celtic Warrior is officially over.
Can the cantankerous Celt cling to the WWE Title once again? Or will another Superstar knock Sheamus off his throne? To find out, tune in to Night of Champions, September 19, only on pay-per-view.