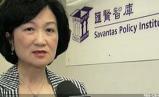 HONG KONG - Another solemn memorial for a people still in shock. Another sad day in Hong Kong.
Hong Kong chief executive Donald Tsang led all senior government officials at the Golden Bauhinia Square in Wan Chai in observing a 3-minute silence in honor of those who perished in Monday's hostage-taking incident in Manila.
For 3 minutes, public servants coped with the nation's loss.
They stopped working, except for those stationed at emergency services and border control.
Flags were flown, then lowered at half-mast a day after the bodies of the victims were flown back to home.
Officials here said that more than anything, the only consolation that can be given to the victim's families is a true account of what happened.
For Hong Kong legislative member Regina Ip Lau Suk Yee, that means getting clear answers from a thorough investigation in Manila, and from a leader who sincerely commiserates with Hong Kong's loss.
"I think Hong Kong people are really very unhappy at the way President [Benigno] Aquino [III] responded to questions. He appeared frivolous and dismissive to the losses of Hong Kong people again," said the legislative council member.
Mrs. Ip is Hong Kong's former secretary for security.
She did not mince words when she told ABS-CBN News how disappointed she was watching what is supposedly "Manila's Finest" bungle the hostage negotiation process.
"If it happened in Hong Kong, our officers would have resolved it earlier without resorting to violence…How many Hong Kong visitors are actually shot by a hijacker or killed by friendly fire?" said Mrs. Ip.
In the end, this Hong Kong lawmaker said she believes the only way to move on from a tragedy like this is to do so the grown-up way.
"If the Philippine authorities mishandled this, they owe us an apology! I think President Aquino III must give Hong Kong straightforward answers to our many questions," said the lady legislator.
source:abs-cbd