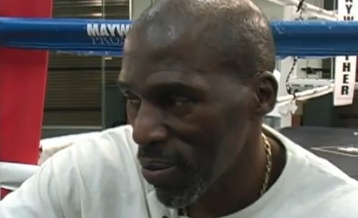 While Floyd Mayweather, Jr. keeps a low profile these days, his trainer and uncle Roger Mayweather can't seem to stop trash-talking "Fighter of the Decade" Manny Pacquiao.
In a report by Fight Chronicles.com, Roger claimed that a drained Margarito is a tailor-made opponent for Pacquiao.
"Margarito was picked [be]cause he's easy to hit and made for Manny. It's gonna make him (Pacquiao) look good fighting a bigger guy," said the boxing trainer.
Pacquiao and Margarito are tentatively scheduled to square off on November 15 for the World Boxing Council (WBC) junior middleweight title.
The match will reportedly be fought at a catch weight between 147 to 154 pounds.
"The weight will beat Margarito. He ain't fought but once in over a year. Manny will have a rough fight on his hands, but only for a little while early on," predicted Roger.
He claimed that the catch weight system makes a mockery of boxing divisions, especially in a title fight.
"One hundred fifty-four is one hundred fifty-four. Junior middleweight is junior middleweight. Period. Anyone said anything different don't know boxing," said Roger.
He also belittled Pacquiao's latest victories over bigger opponents.
"He's been fighting underweights that he challenges at. He didn't fight Oscar [de la Hoya], Ricky [Hatton] or [Miguel] Cotto at 147. He's always weighing in less and had them drain their bodies to make weight. It's like cheating," said Roger.
Fight Hype.com scribe Felix Strunk disputed Roger's claims.
"For the record, someone should remind Roger Mayweather that Pacquiao's bout with De la Hoya was indeed contracted at the 147-pound weight limit. Furthermore, his bout with Ricky Hatton took place at 140 pounds in Hatton's natural jr. welterweight division," said Strunk.
Strunk said that only Cotto fought Pacquiao in a catch-weight limit. Their battle for the World Boxing
"Marvelous" Marvin Hagler
Organization (WBO) welterweight title was fought at a 145 lb. catch weight.
Hagler says Floyd's scared of Manny
Meanwhile, boxing great "Marvelous" Marvin Hagler thinks Mayweather Jr. has shown indications that he is scared to fight Pacquiao.
"I think that Mayweather might be a little scared," he said in an interview with On the Ropes Boxing Radio.
Hagler, who engaged fellow legend "Sugar" Ray Leonard in a stupendous boxing match in the '80s, said Mayweather Jr. is giving too many excuses for not fighting Pacquiao.
"He's almost looking like a Sugar Ray Leonard in the type of sense where he is dictating all of the time. Hello! If you're going to fight, let's fight! Let's stop all this stuff. Let's just get it on! I mean that is what boxing is about," said the Marvelous.
source:abs-cbn