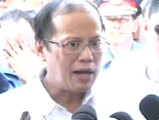 MANILA, Philippines – President Aquino has scrapped some P2 billion in pork barrel funds that former president Gloria Macapagal-Arroyo used to give to local government units (LGUs).
In his proposed P1.6-trillion 2011 national budget, the President did not include any money for Arroyo's Kilos Asenso and Kalayaang Barangay projects.
The two projects are each allotted P1 billion in this year's P1.5-trillion budget. It is not clear how much of that the former president had released. Mrs. Arroyo is now congresswoman of Pampanga's Second District.
The Kilos Asenso and Kalayaang Barangay funds are intended for LGUs. In previous years, they had combined appropriations of P8.5 billion.
Mr. Aquino has retained the huge annual pork barrel allocations of senators and congressmen despite the austerity and budget deficit reduction program he is pursuing, though he made these funds transparent in his proposed budget.
"We are reflecting these allocations in full for the sake of transparency," Budget Secretary Florencio Abad told reporters.
"Members of the House will continue to have P70 million each, while senators will have P200 million each," he said.
Abad said of the P70 million for each member of the House, P30 million would be for "soft" projects like medical, educational and livelihood assistance, while P40 million would be for "hard" projects like roads.
"As for the senators' funds, I think it's 50 percent for soft and 50 percent for hard," he said.
The President's budget proposal includes a P24.8-billion lump sum for the congressional Priority Development Assistance Fund (PDAF). The appropriation is P14 billion more than the P10.8 billion PDAF in this year's budget.
The P24.8 billion is apparently the full reflection of the senators' and congressmen's pork barrel allocations.
This year, as in the past, the PDAF appears smaller because it reflects only the funds for "soft" projects.
Appropriations for "hard" projects like roads were hidden mostly in the budget of the Department of Public Works and Highways (DPWH).
Lawmakers also make what were called "congressional initiatives," better known as budgetary insertions.
In making the entire amount of pork barrel transparent, Abad said the President is appealing to lawmakers to stop putting insertions in his budget proposal.
"We are asking for understanding. The President has his own spending priorities," he said.
Asked what would happen if lawmakers insist in embedding funds in the budget, Abad said the President has the power to reject them.
Reacting to Abad's statements, Minority Leader Edcel Lagman said the President could not stop senators and congressmen from inserting funds in his budget proposal.
"He should remember that the President proposes the budget and it is Congress that disposes," he said.
Last year, aside from their regular pork barrel funds of more than P23 billion, members of the previous Congress reduced debt payments by P65 billion and redirected the amount for their projects.
In approving the budget, then president Arroyo imposed a condition that the increase in the lawmakers' allocations would be released only if they enacted new revenue measures.
It turned out that Arroyo violated her own word by releasing P10.6 billion in additional pork barrel funds to her congressional allies.
President Aquino has ordered the recall of these fund releases.
source;phil star
s