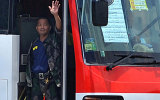 She thought about kicking the gunman out of the bus when he was standing near the door. In a personal chronicle, one of the Hong Kong surviving hostages revealed how their fear prevented action.
"What made us hesitate? It was because we were scared, and we believed the gunman did not intend to kill us," wrote Lee Ying-chuen in a Chinese newspaper.
"Our biggest mistake was to overestimate the ability of the local police force," Lee wrote. "Why did we hand our lives over to that useless government?"
Rolando Mendoza, a dismissed policeman, hijacked a tourist bus in Manila last August 23 and held hostage 21 Hong Kong tourists and four Filipinos.
After an 11-hour standoff, eight of the tourists were dead along with Mendoza, who is suspected of killing all of the victims.
GMANews.TV has compiled a list of the names of all of the hostages here.
Communicating in hushed tones
Although they were forced to sit far from one another, Lee said the hostages managed to communicate in hushed tones, according to a report in The South China Morning Post (SCMP), based on an account Lee wrote for the Chinese-language Ming Pao newspaper.
Lee herself thought about running up to the gunman while he was standing in the doorway looking outside, his back turned to the passengers, and kicking him out of the bus. But she never took action in what could now be seen as a fatal decision.
She had wanted it to be a group attack on Mendoza. She was seated at the back of the bus and found it difficult to relay the message to those sitting at the front.
"A few times, the people who sat at the back discussed if we should fight the gunman. We observed where his weapon was, and when would be the best time to act ... Mr. Leung [Ken Leung Kam-wing] told his daughters that they should also help in snatching the gun. But in the end, we hesitated," she wrote. Leung and his two daughters were killed, along with five other hostages on the bus.
"Before the gunman started shooting at night, he had never pointed his gun towards any of us. He had never threatened us... he reiterated that he would not hurt us. All this made us feel more at ease," recounted Lee, who hid under her seat and kept reciting Buddhist sutras when the shooting started.
"It was dark inside the bus. The only light I saw was the firing from the gunman, whenever he discovered that there were people still alive," wrote Lee, who said she could still smell blood days after being rescued.
Teen hostage hid under bus seat
Fellow survivor Tracey Wong told Hong Kong reporters she hid under a seat in the bus when Mendoza started firing at the hostages.
"I want to find daddy and mommy quickly and see if they're OK," the 15-year-old said. However, Hong Kong's radio RTHK reported that both her of parents were among those killed, identifying her father as 51-year-old Wong Tze-lam.
Another survivor, 53 year-old Amy Ng, lost her daughters— Doris, 21, and Jessie, 14— and her husband Ken Leung, whom she said confronted the gunman.
Ng told GMA News that the only thing that is giving her the strength to go on is her only son Jason, who underwent surgery at the Manila Doctors' Hospital because of a skull fracture. Ng and her son are now in Hong Kong.
"I was thinking, I want to die with my husband but I also think of my kids, that's why I think if I die, and my husband dies, no one takes care of them..." Ng said, barely able to speak through her sobs.
Immense anger, sorrow, and guilt
The what ifs haunt the survivors. "These few days I have thought about this incident many times, with immense anger, sorrow and guilt... How come after such a long wait, we were still silently anticipating the rescue that looked like it would never come? Why did we hand our lives over to that useless government?" wrote Lee.
"I understand Hongkongers' rage over the inability of the Filipino government and police - I experienced it. But what does this have to do with the common people?" asked Lee.
In its editorial on Wednesday, the SCMP had expressed similar sentiments, saying Filipinos are the "wrong targets" of the collective anger. In the same editorial, it described the police force that handled Monday's hostage situation as "incompetent."
"The actions of a unit of police commandos were not [the Filipinos'] doing. Tarring them with the same brush of incompetence isn't right," the editorial read, adding that venting anger toward Filipinos "smacks of racism."
A day after the hostage-taking, the Asian Human Rights Commission (AHRC) voiced concern over the tendency of some people to blow the incident out of proportion in expressing their anger.
"We have already been informed via an SMS (short messaging system) today of an incident in which a man in Kowloon Tong was heard to have shouted: 'We employ them (Filipinos) in our homes and they murder us in their homes.' This tragedy should not become a conflict of nationalities and it must not, at any point, be seen as such," it said in its website Tuesday night.
Filipinos also grieving
Presidential spokesperson Edwin Lacierda said Filipinos in Hong Kong should not be blamed for the deadly hostage-taking because they are also "in grief" over the incident.
"We recognize the anger and agony of the Hong Kong people, but we would ask the people of Hong Kong not to take it out on Filipinos there," he told reporters in a briefing in Malacanang on Wednesday.
Upon returning to Hong Kong, Lee became aware of some racist comments against Filipino maids, adding that some people even referred to the Philippines as the "land of slaves."
She recalled how angry she became in the hospital upon hearing what President Benigno Aquino said about the media and the police's reaction to the tragedy.
"When I heard that the police were shifting the blame from their own inability to the media, and requested a block on media reports in cases of emergency, I was so angry that I shouted loudly in the ward."
She said she expressed her anger to Filipino officials who came to visit her, including the president's sister, Kris Aquino.
She said to give justice to the victims, the focus should be on the Philippine government and police.– VVP/HS/TJD, GMANews.TV
source:gma