MANILA, Philippines – Seven-division world champion Manny Pacquiao will take a shot at winning the World Boxing Council (WBC) super welterweight title, a belt that was held by Oscar de la Hoya and Floyd Mayweather, Jr.
The vacant WBC belt will be at stake on November 13 when the Filipino boxer-turned-congressman takes on Mexican Antonio Margarito.
"The stars at night are big and bright deep in the heart of Texas. And on November 13 at the fabulous cowboys Stadium, we're gonna have a real fight," Top Rank, Inc. CEO Bob Arum said.
Arum, who promotes Pacquiao and Margarito, talked about what it would mean for the Filipino superstar if he defeats the Mexican.
"Manny Pacquiao, in seeking to win this fight, will be going of an unheard of 8th world title in 8 different divisions. Nobody in boxing history has even come close," he said.
Pacquiao, for his part, told reporters: "What I want right now is to maintain my peak in boxing and I want to be an idol in public service, not only in boxing but also a public servant."
WBC Executive Secretary Mauricio Sulaiman, the son of WBC President Jose Sulaiman, even called the vacant title as special.
He said that the WBC super welterweight (also known as light middleweight) title was worn by great fighters such as Nino Benvenuti, Wilfred Benitez, Thomas Hearns, Terry Norris, John Mugabi, de la Hoya, Mayweather, Shane Mosley and Sergio Martinez who moved up in weight.
Sulaiman added that the winner will receive a special one-time edition WBC belt which features the Dallas Cowboys and Top Rank, Inc. as well as the pictures of Pacquiao and Margarito.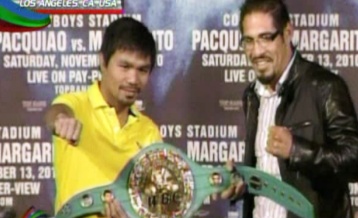 The WBC official also mentioned that they plan to include the Pacquiao-Margarito bout as part of the bicentennial celebrations of Mexico and the US.
After Los Angeles, Pacquiao and Margarito will continue their media tour in New York on Wednesday (Thursday in Manila).
The duo will go to Texas on Thursday (Friday) to watch a Dallas Cowboys game with Cowboys owner Jerry Jones. They will wrap up the media tour on Friday (Saturday in Manila).
Pacquiao will return to the Philippines this weekend to begin his training. He will return to the US in October to finish up his training before the November 13 bout.
The Cowboys Stadium will reportedly be ready for 70,000 spectators. Tickets, priced from $50 to $700, will go on sale beginning September 18. – With a report from Steve Angeles, ABS-CBN North America News Bureau
by abs cbn