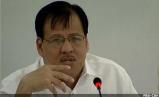 Posted at 09/06/2010 12:30 AM | Updated as of 09/06/2010 12:44 AM
When Malacañang submits to Congress for confirmation its list of Cabinet appointees, Interior and Local Governments Secretary Jesse Robredo, who is under fire for supposedly mishandling the Aug. 23 hostage-taking crisis at the Quirino Grandstand, won't be on it.
A list of appointments made by President Benigno Aquino III since he assumed office on June 30 shows that Robredo and two other secretaries—Environment Secretary Ramon Paje and Labor Secretary Rosalinda Baldoz—were named only "acting" secretaries instead of being issued "ad interim" appointments for transmittal to the Commission on Appointments.
"The ad interim appointees enjoy his (Aquino's) trust," a high-ranking Palace official said. "The acting appointees are under probation."
Robredo, three-term mayor of Naga City and a Ramon Magsaysay awardee for public service, was appointed on July 9 and was among the last named to Aquino's Cabinet.
Individuals close to the President and those who had helped in his presidential campaign told VERA Files that Robredo does not quite enjoy Aquino's trust, owing to differences that erupted during the campaign.
The President, they said, was unhappy with the campaign schedules Robredo drew up, which were packed with appointments and events that he had difficulty following.
And while Aquino has given his Cabinet appointees free rein to select their undersecretaries, Robredo had to settle for working with Undersecretary for Peace and Order Rico Puno, who was appointed on July 2, or one week ahead of the DILG secretary.
Puno, a close friend of Aquino and fellow gun enthusiast, was assigned to handle the Aug. 23 incident and reported directly to the President.
Robredo admitted he "was out of the loop" during the 12-hour crisis.
Last Friday, 11 days after the hostage-taking incident, Aquino took responsibility for the debacle, admitting that when he offered the DILG position to Robredo, he told him "to address concerns such as coming up with a comprehensive plan on delivering social services to and relocating informal settlers in coordination with the local governments."
Aquino also said he told Robredo, "I will retain direct supervision on the PNP."
In his testimony before the Incident Investigation Review Committee that is probing the hostage-taking, Puno said he had "verbal instructions from the President to oversee the PNP" in addition to his duties to supervise Patrol 117, Bureau of Fire Protection, Bureau of Jail Management and Penology, Public Safety College and the Philippine Center for Transnational Crime.
In his platform of government, Aquino had pledged to transform government service "from presidential appointees chosen mainly out of political accommodation to discerning selection based on integrity, competence and performance in serving the public good: a civil service based on merit and not political patronage."
Aquino supporters, however, are also among the first to admit that a number of more qualified, competent and experienced individuals recommended by the search committee for Cabinet positions were edged out because the President based his selection not only on trust and his "comfort level" but also on "utang na loob (debt of gratitude)."
Clashes among the President's advisers have also surrounded the appointments. The two main competing groups are carryovers from the campaign. One is composed of Liberal Party stalwarts and the Hyatt 10, cabinet members of former President Arroyo who quit her government after the "Hello, Garci" expose. The group supported Manuel "Mar" Roxas II for vice president. They are also referred to as the "Balay" (which means "house" in the Visayan dialect) group because their meeting place was the Araneta-Roxas compound in Cubao.
The other group is made up mainly of Aquino relatives like his uncle, former Tarlac Rep. Jose Cojuangco, cousin and TV director Maria Montelibano and friends who supported Makati Mayor Jejomar Binay as vice president. They are referred to as the "Samar" group because their headquarters was a house on Samar Avenue in Quezon City owned by real estate businessman Jose "Jerry" Acuzar, brother-in-law of Executive Secretary Paquito "Jojo" Ochoa.
Sen. Francis "Chiz" Escudero, who was part of the Aquino campaign and endorsed Binay for vice president, has said Robredo would have a difficult time in the Commission of Appointments.
There is also the clash between the "pragmatists" and "purists" among Aquino's close advisers. The "purists" are those who think Aquino should make a clean break from his predecessor Arroyo and that he should rid his Cabinet of those identified with her government. The pragmatists are those willing to work with former Arroyo officials.
The ad hoc search committee was composed of Ochoa, Finance Secretary Cesar Purisima, Tourism Secretary Alberto Lim, Presidential Management Staff chief Julia Abad, Defense Secretary Voltaire Gazmin and Internal Revenue Commissioner and Aquino classmate Kim Henares.
Accounts on the role of sisters Ma. Elena "Ballsy" Aquino-Cruz and Aurora Corazon "Pinky" Aquino-Abellada in the search committee vary. While some said they were members of the committee, Ochoa said in an interview the President's two elder sisters merely gave suggestions but were not members of the committee.
The post of foreign secretary was at first committed to former trade secretary Juan Santos, a member of the "Hyatt 10."
Aquino, however, was forced to retract the offer to Santos after his sisters prevailed on him to retain Alberto Romulo mainly because of their families' friendship, despite allegations of incompetence by the career foreign service corps.
Romulo was the first among Arroyo's government officials to have openly said he would support and campaign for Aquino even though he held on to his post all throughout Arroyo's incumbency. "But we owe Tito Bert a lot," a source present in the meeting quoted one of the sisters when Aquino informed the search committee of his decision to appoint Santos as foreign secretary. Santos was recently appointed chairman of the Social Security System.
A Malacañang source said Aquino is keeping Romulo only in a "holdover" capacity for not more than one year.
Another source also said Aquino was reluctant to sign Romulo's appointment papers but it was causing complications in foreign relations. Although Romulo took his oath of office first week of July, his appointment was signed only on Aug. 10. As a result, Romulo missed the 43rd meeting of foreign ministers of the Association of Southeast Asian Nations in Hanoi on July 20, as his lack of an official appointment prevented him from signing official international agreements for the Philippines.
Aquino's lack of rapport with Romulo has resulted in a disconnect between Malacañang and the Department of Foreign Affairs with adverse consequences. These include the cancellation of Aquino's visits to Vietnam and Indonesia, scheduled for the second week of September, which the Philippines had initiated.
The disconnect also resulted in Aquino's failure to receive the call of Hong Kong Chief Executive Donald Tsang at the height of the hostage crisis.
A Malacañang official said an aide of Aquino received Tsang's call at about 5 p.m. of Aug. 23 through the Palace trunkline. Tsang called without prior notice, and since Aquino's aide did not know who Tsang was, a source said the aide referred the call to the DFA.
A DFA official said the department waited for Tsang's call but it never came. No one from the DFA took the initiative of calling Tsang because Malacañang's instructions were "to wait" for Tsang's call.
Sources also cited the appointment of Education Secretary Armin Luistro, former president of De la Salle University, as another case of utang na loob. The La Salle brothers had offered their Greenhills campus as the venue for the wake former president Corazon Aquino, who died August last year, when the Ateneo de Manila University and Sto. Domingo Church were unavailable.
Luistro was appointed despite his lack of expertise in basic education, according to Aquino supporters, in the process shutting out former Education Undersecretary Juan Miguel Luz who had helped craft Aquino's education agenda during the campaign.
In many cases, Ochoa admits, the last word on appointments rests with him and the President. The two enjoy a friendship that dates back to when their fathers were Liberal Party members in the 1960s. Ochoa's father was former mayor of Pulilan, Bulacan.
In 1998, Ochoa became Aquino's legal counsel when the latter was elected to the House of Representatives. Aquino's first choice was Eulalio "Galland" Diaz III, his classmate at Ateneo, but Diaz was not available.
Ochoa took pre-law studies at the University of Santo Tomas but enrolled at the Ateneo Law School where he had for classmates those who attended Ateneo undergrad with Aquino, including Diaz and now Sen. Teofisto "TG" Guingona Jr.
Many of Aquino's classmates who went to the Ateneo Law School belong to Class of 1985 whose class valedictorian was Edward Serapio, who was once former President Joseph Estrada's lawyer and was jailed along with him on charges of plunder. Serapio was subsequently acquitted.
In fact, Aquino has fallen back on his classmates at the Ateneo in his search for appointees, leading critics to dub them as "Kaklase (Classmates) Incorporated."
Among those who have been named to the Aquino government are Henares, Diaz as administrator of the Land Registration Authority, Rene Almendras as secretary of the Department of Energy, Cristino Naguiat as chairman of the Philippine Amusement and Gaming Corp., and Senior Deputy Executive Secretary Jose Amor Amorado.
Other Atenean lawyers in Aquino's government are presidential spokesperson Edwin Lacierda, Juan Andres Bautista as chair of the Presidential Commission on Good Government, Pio Lorenzo Batino as defense undersecretary, Michael Frederick Musngi as deputy executive secretary, and Francis Tolentino as chair of the Metro Manila Development Authority. A number of them were part of the group called Pinoy Lawyers that served as the legal arm of the Aquino campaign in the elections last May.
Ochoa said he and Aquino act like they are still members of a barkada and are often the only two officials at Malacañang's Premier Guesthouse. "Ang lungkot sa Premier Guesthouse. Kami lang dalawa ni Noynoy (It's lonely at the Premier Guesthouse; it's just the two of us)."
The barkada-style relationship prevails to this day, and Ochoa said he often forgets he is dealing with the President. During a meeting with World Bank, Ochoa said, he answered Aquino with a "Sige, pare."
"Then I corrected myself. 'Mr. President,'" he said.
This relationship and his position as executive secretary, often considered the "little president," have practically given him a monopoly on the President's attention. When Aquino didn't like the names recommended by the search committee to head the Department of Science and Technology, he turned to Ochoa for help.
"He (Aquino) said he didn't know anyone on the list. So I offered to consult my brother-in-law," Ochoa recalled, referring to Mario Montejo, a mechanical engineer.
But Ochoa said the President instead replied, "Bakit hindi siya (Why not him)?"
Ochoa also said he recommended Enrique Ona as health secretary after hearing about his work at the National Kidney and Transplant Institute. "I know him only by reputation," he said.
Critics have slammed Ona's appointment, especially his promotion of the sale of organs for transplant. "He is for Filipinos to sell their organs. That's against medical ethics. It's exploitation of the poor. One donates organ to save another life, not for pay," said a leading doctor.
Ona and Romulo are said to be among five individuals recommended by the Iglesia Ni Cristo, a two-million-strong church group whose support the LP reportedly courted during the campaign. The INC also recommended the appointments of Paje and National Bureau of Investigation chief Magtanggol Gatdula.
Paje, however, was named in an acting capacity as the DENR portfolio would reportedly be given to former Bukidnon congressman Nereus Acosta, the President's fellow Liberal Party member, who lost in the senatorial race. Acosta is covered by the one-year appointment ban on losing candidates.
Ochoa acknowledges that "everyone tries to influence" the President in the appointments. In cases when his advisers clash, the executive secretary said he and Aquino end up having the last say.
But he also said, "At the end of the day, it's P-Noy who decides. It's the personal choice of the President. It's his personal judgment."—Ellen Tordesillas, Luz Rimban, Yvonne Chua and Avigail Olarte
(VERA Files is put out by veteran journalists taking a deeper look into c
source abs cbn