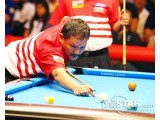 MANILA
, Philippines - Filipino pool legends Efren "Bata" Reyes and Francisco "Django" Bustamante saw their title-retention bid in the World Cup of Pool vanish into thin air early, falling to a 6-8 upset by a lowly regarded Indonesian pair in their Round-of-16 duel at the Midtown Wing of Robinson's Place Ermita last night.
Reyes and Bustamante just couldn't get into the groove and, worse, got bad breaks in crucial moments as they bowed to Ricky Yang and Muhammad Zulfikri.
"We played well in the beginning but our shots just won't fall in the late stage," rued Bustamante after they lost the match, leaving Dennis Orcollo and Roberto Gomez to carry the flag for the home front.
In pulling the rug from under the two-time champion Reyes-Bustamante pair, Yang and Zulfikri advanced to the quarterfinals versus the winner of the Italy-China match today.
Taiwan also booked a spot in the Final Eight on a 8-2 demolition of Japan.
Earlier, Holland and Finland sustained Europe's mighty start, showcasing their own superb pool skills in bundling out separate opponents.
Veteran campaigner Niels Feijen and debuting partner Huidji See stamped their class versus the Austrian male-female mix of Mario He and Jasmin Ouschan, 8-3, while former World 9-ball champion Mika Immonen and Markus Juva crushed the Singaporean duo of Chan Keng Kwang and Toh Lian Han, 8-2.
Later on, second seed Team USA needed a big luck in the crunch to escape Sweden's fury, 8-7.
The Swede duo of Marcus Chamat and Thomas Mehtala had a chance for a major upset but the latter made a dry break at the worst moment, allowing Rodney Morris and Johnny Archer to scrape through.
The Swedes were breaking for the match after a rally from a 4-7 deficit when Mehtala gave the Americans a lifeline.
"Every year I win the first match hill-hill. I think it's been four out of five years that that has happened so it's nothing new," said Morris.
"I'm just glad we won but I thought we played better all the way and when we had a chance we took it. I wasn't nervous as I knew we were playing well so it was just a matter of getting the opportunity," added Morris, who in partnership with Shane Vane Boening, topped the 2008 WCP.
The sixth seeded Dutchmen and the 11th ranked Finns clash in an interesting duel of European neighbors at 3 p.m. today for a seat in the quarterfinals.
"We're playing good and have got a lot of potential, but we still have to step up our game. This was Huidji's first ever match on television and he handled it very well," said Feijen.
"It was my first match in the World Cup and I really enjoyed it and the fact that we won. As long as we stay playing well, it doesn't matter who we play next," said See, a WCP rookie who took the place of Nick Van Den Berg.
The Feijen-Van Den Berg pair narrowly missed the semis in a 9-11 loss to Germany last year. Before that, the Dutch twice suffered a heartbreaking 7-8 loss in the Round of 16.
"I think we have a chance to win it as Huidji is not folding under the pressure and he's risen to the occasion. We just have to play solid. We're breaking good. If we get more relaxed, we could go on a run," said Feijen.
The Dutch blew past the Austrians as they strung up five straight racks after the two teams fought to a 3-3 deadlock.
It's now an all-male battle after the exit of Koreans Yu Ram Cha and Ga Young Kim and the lovely Ouschan.
Ouschan, with her 17-year-old partner He, sent the Filipino crowd roaring as they won the lag, took the first rack and engaged their formidable rivals in a nip-and-tuck battle in the next five racks.
Then the Austrians faded away, allowing the Dutch to seize control and hold on to finish the match in 13 racks.
The Finns were more dominant in their own first-round victory.
Still featuring the Immonen-Juva pair that lost a hill-hill thriller versus China in the 2007 finale, Finland proved so much for the lowly Singaporean side.
source phil star