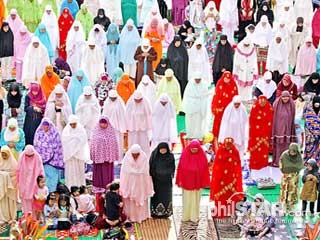 MANILA, Philippines - A former mayor who was seeking re-election in a coming special election in Tugaya, Lanao del Sur was killed while four others were wounded after they were ambushed on their way to pray and celebrate Eid'l Fitr or et end of the holy month of Ramadan.
Another man was also killed in Sultan Kudarat, Maguindanao while a nine-year-old boy was wounded when stray bullets hit them after unruly residents fired their guns to welcome the end of Ramadan.
Senior Superintendent Agrimero Cruz Jr., spokesman of the Philippine National Police (PNP), said Tugaya's re-electionist mayor Alimatar Guro Alim died on the spot due to multiple gunshot wounds in the body.
He said the ex-mayor's driver Khalid Taher and passengers Jalani Alicasim, Asrin Sampao and Alvin Mustapha were injured and were treated at the Amai Pakpak Medical Center.
Investigators are looking at politics as the possible motive for the ambush.
Police said that the Commission on Elections (Comelec) had nullified the results of the May 10 mayoralty elections in Tugaya after Mayor Alim filed a protest.
Alim's rival, Alver Balindong, was earlier proclaimed winner in the mayoralty race, but the re-electionist mayor filed an election protest and the Comelec declared a failure of elections.
The poll body nullified the results of the polls and set a special election this coming Nov. 6.
Initial investigation showed that Alim and the other victims were on board a maroon Mitsubishi Pajero with license plate ALM 444 when the still unidentified suspects ambushed them at around 7 a.m. at Barangay Dilimbayan in Tugaya.
Cruz said the victims were on their way to Barangay Poonain Tugaya to pray for Eid'l Fitr when they were attacked.
The PNP created a special investigation task force Alimatar headed by Autonomous Region in Muslim Mindanao (ARRM) police operations chief Senior Superintendent Allen Fortez.
In Sultan Kudarat, Maguindanao, the fatality of indiscriminate firing was identified as Boyet Potenciano, who was hit in the head by a stray bullet after Muslim residents greeted Eid'l Fitr with revelry.
A nine-year-old boy identified only as Kahal, a resident of Sultan Kudarat, sustained a gunshot wound in his ankle and was rushed to a local hospital.
The local police and various peace advocates have been appealing to residents of Muslim-dominated areas not to indiscriminately fire their guns to welcome Eid'l Fitr.
Eid'l Fitr marks the end of Ramadan, where all Muslims except children, the sick, the elderly and lactating mothers fast from dawn to dusk for one lunar cycle, or about 28 days.
The firing of guns to greet Eid'l Fitr is a tradition among Muslims in Mindanao where loose firearms are part of the culture.
Stray bullets have killed more than 10 people during the celebration of Eid'l Fitr in the past 10 years.
"This practice of firing guns by revelers during Eid'l Fitr is something we need to address fairly, an objective fraught with difficulties. Islam espouses very simple but solemn celebration of religious events," said Ustadz Esmael Ebrahim, a member of the local Islamic Darul Iftah (House of Opinions).
Faisal Ungkakay, president of the sports-oriented Cotabato City Pistol and Rifle Association, said they will campaign against firing of guns during Eid'l Fitr.
"Islam does not oblige believers to create noise during Eid'l Fitr. Nothing can be more soothing to the ears than the sound of the call to prayer and the congregational prayers in open fields after sunrise during Eid'l Fitr," Ungkakay said.
Ali Macabalang, regional information director of the ARMM, said Muslims would earn spiritual indulgence if they donate food to their neighbors during Eid'l Fitr festivities instead of wasting their money on ammunition to greet the religious holiday.
"Nowhere in the Qur'an can we find a verse saying we create noise, play loud music, or create something that can disturb neighbors during Eid'l Fitr," said Macabalang, a Muslim Maranaw who hails from Marawi City.
Western Mindanao peaceful
Meanwhile in Zamboanga City, police and military authorities said the celebration of Eid'l Fitr in Western Mindanao was peaceful amidst warnings of retaliatory attacks by militants following the recent police operations against the Abu Sayyaf group in Sulu.
Lt. Gen. Ben Mohammad Dolorfino, commander of Western Mindanao Command (Westmincom) who is a Muslim-convert, said the celebration of Eid'l Fitr was generally peaceful in Tawi-Tawi, Sulu, Basilan, areas which are predominantly Muslim, and in Zamboanga peninsula. — With Mike Frialde, John Unson, Roel Pareño, Jaime Laude, Lino dela Cruz, Rose Tamayo-Tesoro
source:phil star