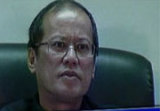 MANILA, Philippines - President Aquino has warned that he is ready to let go of Cabinet members unable to perform their duties or satisfactorily defend issues raised against them.
"In the Cabinet, if there's a question of performance, did they perform or did they not? If they did not, then I will ask them to leave, or if they don't leave, I'll fire them," Mr. Aquino said.
"If, on the other hand, clearly there are issues that have been raised (and) there are people who cannot satisfactorily answer for their shortcomings... who have really demonstrated their inability to handle the positions, they will be fired," he added.
There have been speculations that members of Mr. Aquino's Cabinet have split into factions. He has denied this, saying Cabinet members came from different backgrounds but they have all agreed on one direction.
"So far that has not been a hindrance and I make it a point that anytime I see a possibility that that is promoting a hindrance or inefficiency in our administration, I call the necessary people's attention to it and I tell them: 'I am not tolerating this,' and thus taking corrective actions each time I call their attention to something like that," he said.
"Are the Cabinet members fighting? I did not witness any bickering per se. But at the same time, I'm conscious about that. And I make it clear to them: Do we agree on where we should go?" he added. Mr. Aquino also clarified that his Cabinet officials were not appointed to their positions because of any debt of gratitude.
He said he would not have submitted the names of his Cabinet members to the Commission on Appointments if he did not believe in them.
He maintained that he did not forward the names of Interior and Local Government Secretary Jesse Robredo, Labor Secretary Rosalinda Baldoz and Environment Secretary Ramon Paje to the commission because they were appointed in an acting capacity.
Mr. Aquino also said he is not yet considering letting go of Robredo despite the bungling of police operations in the Aug. 23 hostage-taking crisis at the Quirino Grandstand at Rizal Park.
He has said, however, that Robredo is under probation.
The President is also standing by Interior Undersecretary Rico Puno, who he said was in charge of the police at the time of the crisis, because of his performance track record.
source phil star