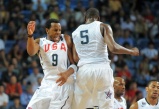 ISTANBUL (2010 FIBA World Championship) – The United States of America beat Lithuania 89-74 to book their place in the final of the 2010 FIBA World Championship.
The Americans return to the Gold Medal game in the biggest international basketball competition for the first time in 16 years. They last made it to that stage of the competition in 1994 and went on to win on that occasion.
Mike Krzyzewski's men will face Serbia or hosts Turkey in Sunday's decider.
Kevin Durant erupted for 38 points to set a new American single-game record at the FIBA World Championship. Carmelo Anthony held the mark previously with 35 against Italy in 2006. After the game Durant visited with FIBATV.com.
Linas Kleiza edged Lithuania in front 11-9 with 5:23 to go in the period, but Kestutis Kemzura's men then went almost four minutes without a single point and the USA took full advantage to reel off 12 unanswered points.
Durant – who had 17 points in the first quarter alone – capped the run from beyond the arc for his team's first double-digit lead 21-11.
The Lithuanians struggled to get any shots to fall as they made just five of 16 attempts compared to nine of 18 for the Americans in the first period.
Up 23-12 to start the second quarter, Russell Westbrook, Durant and Lamar Odom all scored as part of a 6-0 run that made it 29-14.
Andre Iguodala and Odom later worked the give-and-go to perfection as the former cut and received a pin-point bounce pass from the latter for a two-hand dunk and a 31-17 advantage.
Martynas Pocius connected from beyond the arc and Kleiza made a pair of free-throws to cut the deficit to 33-25. However, the Americans soon re-established their dominance at both ends of the court.
Westbrook hustled back and swatted Mantas Kalnietis' lay-up and hit a pair at the charity stripe at the other end to re-establish a double-digit lead, 35-25.
Later on, Odom blocked Kleiza and Javtokas and at the other end Durant knocked down his third three-pointer of the game for 24 first-half points.
Pocius made a pair of foul shots and the Americans took a 42-27 lead at the break. The Lithuanias shot a meagre nine of 36 from the field in the first half.
Jonas Maciulis buried two three-pointer early in the third quarter and Lithuania got within 50-40 when Mantas Kalnietis dialled in from long range.
The USA answered right back with nine unanswered points to take their biggest lead.
Durant hit from beyond the arc and then caught an Odom outlet before feeding a streaking Rudy Gay in stride for a two-handed throwdown.
Kevin Love hit two free-throws for a 59-40 cushion.
The Lithuanians showed they were finding their scoring touch as Tomas Delininkaitis scored eight quick points to make it 61-51
Westbrook and Paulus Jankunas traded baskets in the final minute and Love scored inside in the closing seconds of the period as the Americans take a 65-53 lead into the final frame.
Chauncey Billups buried a top of the key three-pointer to put the USA up 69-55 and while Lithuania got back within 11 on several occasions, the Americans always seemed to have an answer.
Durant hit his fifth three-pointer of the night and a wing jumper for an 84-67 cushion to put the game away.
Westbrook and Stephen Curry applied the finishing touches.
For complete highlights of the game, an interview with Kevin Durant and tomorrows gold medal match-up with Turkey visit FIBATV.com.
Quotes:
Mike Krzyzewski (USA head coach): "No one has played with more heart than they did and I thought tonight we played as hard as they did. We felt like we beat an outstanding team tonight. We are honoured to be in the championship game, especially this World Championship. There have been so many close games in this tournament. To be one of the two teams to play in the final, you hope you can take advantage of the moment.
Andre Iguodala (USA forward following his defensive effort on Linas Kleiza): "In the NBA they don't allow hand checking, so you can't stop guys. Here they let you play a little bit more defence. There's great ball players all over the world, and you just try to slow them down."
Kestutis Kemzura (Lithuania head coach): "I want to congratulate this US team, their coaches, fans. They played a great game and they deserved to win. From the start they controlled the game. We tried to come back, from 19 or 20 back to 11 or 12, but that was all we could do.
(On Kevin Durant): "It's very hard to stop Kevin Durant one-on-one, you have to pick your poison."
Martynas Pocius (Lithuania guard): "You have just got to hope they (USA) miss shots. That's the only way you I think you can stay in the game."
FIBA