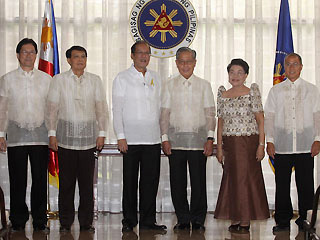 The five members of the newly formed commission that will investigate corruption scandals in the Arroyo administration took their oaths on Monday before President Benigno Aquino III.
Chief Justice Hilario Davide Jr., the head of the Truth Commission, said they would start working Tuesday.
"We will start our work tomorrow by having an executive session of the entire commission to deliberate on the rules of procedure as a first step," he told GMANews.TV after the oath-taking.
He refused to disclose the venue of the executive session, saying only that it will not be within the Malacañang compound.
The Commission was created by virtue of Executive Order No. 01, the legality of which is being questioned by lawmakers allied with former President and incumbent Pampanga Rep. Gloria Macapagal-Arroyo before the Supreme Court.
Among the corruption scandals that hounded the nine-year Arroyo administration were the allegedly overpriced $329-million ZTE-national broadband network deal and the P728-million fertilizer fund scam.
Davide could not say which corruption case they would investigate first.
"We cannot speculate yet [on what issues we'll tacke] because the rules will provide as to what should be the procedure of receiving and evaluating the evidence of certain cases," he said.
Aside from Davide, those who took their oaths on Monday were retired Supreme Court Associate Justice Romeo Callejo Sr.; former Supreme Court Associate Justice Flerida Ruth Romero; Carlos Medina Jr., former executive director of the Ateneo Human Rights Center; and former Ateneo de Manila law professor Menardo Guevarra.
In August, Arroyo allies in the House of Representatives led by Minority Leader Edcel Lagman asked the Supreme Court to nullify Aquino's EO No. 1, saying it duplicates the quasi-judicial powers of the Office of the Ombudsman and the Department of Justice.
They also asked the Court to issue a Temporary Restraining Order (TRO) against EO No. 1, but the tribunal has yet to decide on it.
Malacañang has repeatedly maintained that the Truth Commission stands on solid legal ground.
The Supreme Court is set to resume oral arguments on the petition on Tuesday, with the government expected to defend its side. -
Jam Sisante, GMA News