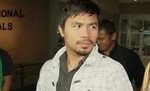 MANILA, Philippines – Manny Pacquiao was taken to the hospital Friday evening after complaining of pain on his left foot shortly after going through a rigorous two-hour workout at the Elorde Gym in Quezon City.
Pacquiao was at the Cardinal Santos Medical Center by 7 p.m. He went through MRI on his ailing foot and took some blood tests for fear it had something to do with uric acid or even arthritis.
Once, he thought he had arthritis when during training for the Marco Antonio Barrera fight in 2007 he felt piercing pain in his hands the day after enjoying a bowl of mongo sprouts in a Japanese restaurant.
The same old fear was back Friday evening when he felt the pain on the soles of his left foot.
"Wala naman pala sabi ng doktor (The doctor said it was nothing). May kaunting maga nga kaya sumakit. Baka nahila sa workout (There was some swelling. Maybe it was pulled during the workout)," he said.
Pacquiao's chief trainer, Freddie Roach, and his strength and conditioning coach, Alex Ariza, looked a little bit concerned when they learned that the pound-for-pound champion was taken to the hospital.
But the moment Pacquiao stepped inside the ring, all those fears disappeared.
He did 12 rounds with the mitts with Roach and worked on the double-end bag and speedball as usual, this time before a bigger number of fans who flashed away with their cameras even if the "no-flash" sign was up.
As he limbered up on the ring, Pacquiao himself sounded some concern when he tried to recall Miguel Cotto's fight with Yuri Foreman last June when the latter was beaten and limped off the ring with a twisted knee.
"Nakita mo 'yun? Natalo siya dahil sumakit ang tuhod (Did you see that? He lost because he hurt his knee)," said Pacquiao.
Roach, however, doesn't think that would happen to Pacquiao when he climbs the ring against Antonio Margarito on Nov. 13, and shoots for an eighth world title in eight different weight classes.
"It's not an injury we've never had before," said Roach after yesterday's session, and looked like he had been through a real fight.
"We'll try to get it out of the way as soon as possible. We know how to deal with it. It's just a little pull probably. But he moved pretty well today.
"He beat the mwah out of me. He got me winded," said the trainer.
Indeed, Pacquiao moved so well during the session that a couple of times, after throwing a flurry or some perfect combinations, Roach was overheard saying, "Nice shot. That's what I want Manny. That's what I want."
Ariza wanted to make sure he gets to talk to the doctor who checked on Pacquiao at the San Juan hospital, and insisted even if Pacquiao told him there's no need to do so because he felt perfectly fine.
"I want the number of your doctor. I need to talk to him. I want to know what's wrong. Why? Because that's what I'm here for. That's what you're paying me for. I need to know what's wrong so I can fix it," said Ariza.
Pacquiao cut him short, saying, "Okay, Okay. One word is enough."
"Not with you, Manny," Ariza said.
Of course, it was all part of a conversation, and Roach later said Ariza will have his way.
"He will talk to the doctor. He knows how to take care of it, too. That's his job so that's what he'll do," said Roach.
Again, whatever that is that led Pacquiao to the hospital was nowhere to be found inside the ring.
"His power is there. His speed is coming along and his timing is getting better. Not a hundred percent yet but he's getting better. I'm happy and I'm thrilled," said Roach.
phil star