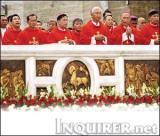 MANILA, Philippines—A network of 100 Catholic lay groups across the country Tuesday geared up for protest actions after President Benigno Aquino III signified he might support Filipino couples who want to limit the number of their children by using contraceptives.
Preliminary consultations among lay leaders, most of whom supported Mr. Aquino in the May elections, will be held in Metro Manila this week, said Fr. Melvin Castro, executive director of the Catholic bishops' Episcopal Commission on Family and Life.
Castro said the Catholic clergy, including the bishops, would back the lay groups' actions, but he indicated that such actions would "not be confrontational" with the President.
In Malacañang, presidential spokesperson Edwin Lacierda said Mr. Aquino was willing to meet with Church leaders to explain his position on family planning.
Mr. Aquino kicked up a storm last weekend when he said in California at the close of his US visit that while he would not dictate on couples any specific birth control method, his government "might provide assistance to those who are without means if they want to employ a particular method"—a remark taken to mean that he was open to giving them contraceptives.
"Our lay leaders, who have their own families, see the need to be very visible in this protest and we respect their freedom," Castro, pointman of the Catholic Bishops' Conference of the Philippines (CBCP) on population matters, said on the phone.
"On the side of the clergy, we will simply support them in this initiative," he added.
'Family is at stake'
Castro said the protest would initially take the form of letters to national leaders and lawmakers and, later, could spill out to the streets to send a stronger message to Mr. Aquino.
"This is not to be confrontational with the President but among them are people who really supported him during the elections so I hope he would listen to them because these are the people who elected him into office," Castro said.
"We have to react no matter how we respect the President because this is a serious matter... it is the Filipino family at stake here," he added.
Castro said: "Our lay organizations have at least 100 diverse organizations and their networking is national. Our preliminary consultations will be in Metro Manila, then slowly we will expand."
Bishop Deogracias Iñiguez of Caloocan criticized Mr. Aquino's statement. "The whole Church is against it," he told The Associated Press.
12th most populous country
Church officials have argued that contraception is a type of abortion, which is banned by the Constitution.
The Church is a powerful voice in the country—where the vast majority of the population are practising Catholics. But proponents of contraception have argued that rapid population growth and high fertility rates have exacerbated crushing poverty, and birth control could be a powerful way to raise living standards.
With a population estimated to hit 94 million this year, the Philippines is the 12th most populous nation in the world.
Castro said the Church and the faithful had hoped that Mr. Aquino, as the son of the late former President and prolife champion Corazon Aquino and being surrounded by four sisters, could be "influenced" to address the issue of poverty through economic means, not by population control.
Church fears
The Church also fears that Mr. Aquino's pronouncement would encourage the passage by Congress of the Reproductive Health Bill, which it has effectively blocked, so far.
"We fear that (Mr. Aquino's statement) will not end here but we are praying that we are wrong," Castro said.
He said the Church was gearing up against any other future government moves through mobilization of lay groups and the faithful and by intensifying value formation and catechism down to the barangay chapels.
"So whatever the government will do in the near or far future, our faithful will have a well-formed conscience," he said.
"Initially, they (the lay) would write letters to legislators and national leaders and, without discounting the great possibility of [holding] rallies in the streets... we are gearing towards that," Castro said.
Morally incorrect
Fr. Francis Lucas, the CBCP executive secretary for social communications and mass media, said it was morally incorrect to let people decide what was right and wrong according to their needs.
The "optional" use of contraceptives blurs the lines between right and wrong, Lucas said.
Antipolo Auxiliary Bishop Francisco de Leon viewed Mr. Aquino's statement as a "passive stance" on birth control. "But what is happening on the local level is more aggressive," De Leon said on Radio Veritas.
De Leon said local health officials were the ones telling couples what should be done, instead of letting them decide.
'Open to dialogue'
Signifying Mr. Aquino's openness for discussions, Lacierda said: "The President is ready to explain to the clergy his position on family planning."
"If they want to ask for a dialogue with the President, we're open to that. This is what we have been waiting for since the (election) campaign. If they want to hear our explanation, we're more than willing to do so,'' Lacierda added.
He said that since launching his presidential bid, Mr. Aquino had espoused responsible parenthood in a way that "parents should be the one to decide the size of their family, the manner and method by which planning should be done.''
Lacierda called "unfair'' and "below the belt'' a statement by Castro accusing Mr. Aquino of "selling out the Filipino soul" in exchange for the US grant of $434 million in financial assistance to the Philippines.
Lacierda said the government would use the money for its antipoverty program and to stamp out corruption in government.
An issue long overdue
Senators welcomed Mr. Aquino's statement in California.
Senate President Juan Ponce Enrile said it was important for the President to have "an open, broad mind to consider all facets of every issue that will be presented to him."
"No sector, as far as the leadership of the nation is concerned, has any vested right to push its own agenda," he told reporters. "It is the function of the leader to look at the problem in light of all interests involved in society."
Sen. Pia Cayetano, chair of the committee on health and demography, criticized Castro for linking Mr. Aquino's position on contraceptives to the US financial grant.
"With or without it (the grant), family planning is an issue that is long overdue and should be discussed in the open," she said.
Support for RH bill
House Minority Leader Edcel Lagman said that while Mr. Aquino was advocating voluntary family planning, birth spacing and contraceptive use, he should complement it by endorsing the reproductive health measure whose central idea, he said, was freedom of informed choice.
Lagman said "the endorsement would fittingly cap the Aquino administration's first 100 days and mitigate early setbacks."
House Bill No. 96, the first of several reproductive health bills refiled in the 15th Congress and which Lagman principally authored, guarantees "the right to make free and informed decisions" and promotes "without bias all modern natural and artificial methods of family planning that are medically safe, legal and effective
PHIL INQUIRER