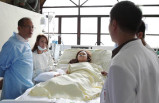 MANILA, Philippines - President Benigno Aquino III on Wednesday challenged perpetrators of a deadly grenade explosion during the traditional "salubong" for Bar examinees last Sunday to surrender immediately or risk facing the full resources of the state.
In a statement posted on the Official Gazette, the President said he is taking a personal interest in the case because many of the victims are women and students.
"I consider this a heinous crime because many of the victims were women and students preparing for their futures as productive citizens of our country. Society bears an added responsibility for caring for women and the youth," he said in a statement.
He also issued the following challenge to the perpetrators.
"To those of you who are guilty: The full resources of the state are being unleashed against you. Surrender. Do not add to the troubles you are now facing. Otherwise, have no doubt that you will be caught. You will not escape the consequences of your actions," he said.
Aquino said he has tasked the Presidential Management Staff (PMS) to render all possible assistance to the victims. He also ordered National Bureau of Investigation (NBI) Director Magtanggol Gatdula and Manila Police District Head Chief Superintendent Roberto Ronganvilla to make the resolution of the case their top priority.
"I expect a strong case to be built against the perpetrators of this crime at the soonest possible time," he said.
Aquino issued the challenge after visiting 3 of the more than 50 law students injured in the blast outside De La Salle University on Taft Avenue last Sunday, the final day of the Bar examinations. Police have blamed a feud between warring fraternities for Sunday's violence.
The President first visited San Sebastian College law student Raissa Laurel, whose legs were amputated as a result of the blast.
Aquino spoke with Laurel's parents and doctors at the surgical intensive care unit of the Philippine General Hospital (PGH) for 20 minutes. "I was very impressed with her courage," Aquino told ABS-CBN reporter Alex Santos before leaving.
The President also visited 2 other victims of the blast at the Manila Doctors Hospital. They are Joana Ledda, 23, daughter of Sanggunian Bayan member and a Municipal Health Officer in Bauan, La Union; and, Camille Villasin, a sophomore student from San Beda and daughter of Philippine Association of Water Districts (PAWD) President Nestor Villasin.
Blast victim could get prosthetic legs
Presidential Communications Development and Strategic Planning Secretary Ricky Carandang said the President came to express his sympathy for the blast victims and to see if they needed anything.
"Handa kami magbigay ng tulong kung kailangan, pero yung gusto ng pamilya ni Raissa, for example, is hindi naman pera. Ang gusto nila justice. So we're going to make sure this case is followed," Carandang said.
Raissa was in "high spirits" during the President's visit and even joked with him at times, Carandang said.
PGH director Roland Enrique Domingo said Raissa was smiling the whole time, and kept reassuring family members every time she saw them expressing sadness.
Doctors have already removed the tube connecting Raissa's lungs to a respirator, Domingo said. She could be transferred from the intensive care unit to a regular room any time from Wednesday to Friday and brought to her home soon after.
Domingo also hinted at the possibility of Raissa getting artificial legs but only after 2 to 3 months.
"Ang maganda kasi kay Raissa, batang-bata, malakas, 'saka well motivated. She's a very young person, very positive ang outlook in life, at 'saka marami pa syang gustong gawin. Hindi niya feeling tumigil ang mundo niya," he said.
"She's just happy she's alive," he added.
Jorge Sarmiento, president of the Philippine Amusement and Gaming Corporation (PAGCOR), said the national government will provide prosthetic legs for Raissa.
Raissa's mother, Reggie, said her daughter is a member of a choir in their Christian church.
She said that on the day of the blast, Raissa was supposed to have a choral presentation at the PhilamLife Auditorium. She said her daughter might have escaped injury had she left earlier for their choral presentation.
Raissa's father, Roberto, earlier said he was touched by the overwhelming show of support for his daughter.
On Wednesday, friends of the blast victims heard Mass at the PGH, while some wrote on an album to express their support for Raissa. With reports from Alex Santos and Andrew Jonathan S. Bagaoisan, ABS-CBN News
ABS CBN