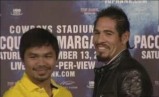 MANILA, Philippines – Mexican Antonio Margarito has vowed that his upcoming fight against Manny Pacquiao will not end up like the Filipino's battle against Oscar dela Hoya, who threw in the towel after getting a beating from the WBO welterweight champion.
"I will knock Pacquiao out," the Tijuana Tornado was quoted by Boxing Scene.com. "This is the fight of my life and Manny will be in for a tough night, I won't quit like Dela Hoya did."
Pacquiao forced "Golden Boy" Dela Hoya's corner to throw in the towel after 8 rounds of their "Dream Match" in December 2008.
The Mexican blamed Dela Hoya's alleged influence over the California State Athletic Commission for its decision to deny him a license. This forced Margarito to apply for a fight license in Texas, which granted his application.
"I don't know what he has against me, I really don't understand. What I do know is that he had a big influence in the California State Athletic Commission with everything he said against me," said Margarito.
The Tijuana Tornado was Dela Hoya's former sparring partner. The two, however, parted unpleasantly in 2008 when Dela Hoya refused to fight Margarito.
Meanwhile, Margarito plans to apply constant pressure on Pacquiao when they meet on November 13 at the Cowboys Stadium in Texas.
The Mexican is known for his forward fighting style, and is expected to swarm the smaller Pacquiao with punches.
"That's one of the plans that we have, Margarito said in a report by Dog House Boxing.com. "Pressure, throwing punches consistently, countering."
His trainer, Robert Garcia, said Margarito is close to perfect conditioning, and is all set to trade punches with Pacquiao.
"He's ready to fight. He's close to weight already and his conditioning is good and he's running the mountains that mostly everyone does in an hour. He did it in 47 minutes, so he's ready," said Garcia.
ABS CBN