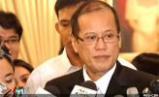 September 30, 2010, 10:44pm
MANILA, Philippines (Xinhua) - Philippine President Benigno Aquino III said on Thursday he is to stand firm in his population management policy, which respects all family planning methods including artificial contraception, despite the threat of possible excommunication by the head of the Catholic Bishops Conference of the Philippines (CBCP).
Aquino was reacting to the statement of CBCP President Bishop Nereo Odchimar of Tandag, Surigao del Sur, that the Catholic Church would excommunicate him if he allows the government to provide artificial contraceptives to poor couples who opt for them as a family planning method.
"We are all guided by our consciences. My position has not changed. The state's duty is to educate our families as to their responsibilities and to respect their decisions if they are in conformity to our laws," the president said in a text message forwarded to reporters by Presidential Spokesman Edwin Lacierda.
Asked in an interview with Church-run Radio Veritas whether the Church would consider excommunicating Aquino if his administration distributes artificial contraceptives, Odchimar said that it was a "proximate possibility" at the moment.
Lacierda told reporters that the planned dialogue between the President and the CBCP on the reproductive health issue has not been set, since the CBCP has yet to accept the long-standing invitation.
"We wrote them a letter on Feb. 25 and we have not received any response from the CBCP since that time.... We have said that we are open to a dialogue. So the ball is in their court. The invitation remains open.... The letter is still with them. So I would like to ask a response maybe from the CBCP on our letter," he said.
Asked about the concern of some lawmakers supporting the reproductive health bill that the president may be swayed by the Catholic bishops on the issue, once he meets with them, Lacierda cited the Aquino's unwavering support for responsible parenthood.
"The president has stated his position long ago. It's for responsible parenthood. It is important to allow parents to decide on the size of their family, and their family planning method," he said.
mb