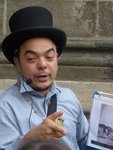 MANILA, Philippines - Artist and performer Carlos Celdran was apprehended by police for interrupting the middle of a homily at the Manila Cathedral Thursday afternoon.
Quoting witnesses, Senior Police Officer 2 Ernesto Andres, Jr. said Celdran used a placard containing the name "Damaso" and held it up in the middle of the mass.
He was also supposedly shouting "bakit mahihirap lang pinagbabawalan sa family planning."
Damaso is a character in Jose Rizal's Noli Me Tangere. Damaso is described as a powerful friar who wields his power to get what he wants.
Damaso is 1 of the most notorious characters in the novel, which touches on the abuses of the Spanish friars during the 19th century.
Celdran is supposedly supporting the pro-choice debate, an issue that has been plaguing the Catholic Church.
Catholic bishops have criticized President Benigno Aquino III for saying that his administration will promote both natural and artificial methods of family planning. At least one bishop said Aquino could be excommunicated.
Andres said Celdran was wearing a "Charlie Chaplin costume." He could be referring to Rizal.
Celdran, known for his Intramuros tour guides, was supposedly quoted previously saying: "Keep your rosaries out of my ovaries."
The police are still waiting if the parish will file a complaint.
abs cbn