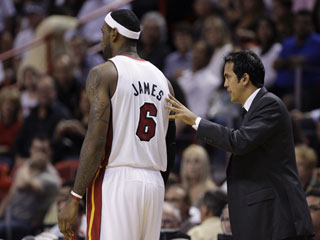 MIAMI-The big three were together for merely three minutes.Lebron James and Cris Bosh more than pick up the slack after Dwayne Wade pre sseason debut came to a quick end.
And with that,this era for Miami Heat got off promising,but not perfect starts
James and Bosh combined for 38 points in their exhibition debuts and the Heat easily beat the Detroit Piston 105-89 in the pre season for both teams Tuesday nigth
It was something I've waited for all summer,James said.'To be able to be back on the court it was great.The recemptions from the fans was awesome and it was great we were able to given the same energy that they gave us.
The outcome was meaningless.but the game wasnt for Miami-not after Wade limped off just 3:17 into a game with stranged rigth harmstring.He went to the locker room shortly afterward,did not return,and could miss up two weeks.Wade expects to be back longs before the Oct 26 regular season opener in Boston.
"I think Miami seen me play for a long time."Wade said," and they get a lot of time to see the Big Three,as they say,our team play together,
Bosh had 20 points on 8 for 13 shooting.James,the NBA two time raigning MVP who took his championship pursuit from Cleveland to Miami this summer,added 18 and the heat werent challenge after running out to a 20 point lead halftime.
Udonis haslem added 14 points and 13 rebounds for the Heat,and Ben Gordon led Detroit with 17 points
"I dont really think they play that great," Gordon said."Obviously we did not played the well either,"
By the final buzzer,most off the was long gone.Most came too see the opening moments of this trio time together,and the fanfare was the sort simply not seen at most pre season games
www.gmanews Tv.