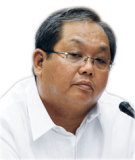 President Benigno Aquino III has decided to "thresh out" the supposed feud between a key member of his Cabinet and a subordinate, saying that their focus should be on nation-building and not "intramurals".
Aquino said he will meet with Department of the Interior and Local Government (DILG) Secretary Jesse Robredo and DILG Undersecretary Rico E. Puno on Sunday night or Monday morning.
"I'll be meeting him (Puno) and Sec. Robredo either tonight or tomorrow morning. I want to thresh all of these things out with them. There are certain goals I have in mind, and it's either achieved or I take corrective actions," the President explained in an ambush interview at the 10th National Cooperative Summit at the Araneta Coliseum in Quezon City.
"Sometimes… things are said that perhaps were not taken in the proper context. Or he (Puno) wasn't also able to convey what he was thinking at the time," said Aquino.
"So that's why I want to sit down with both of them. Something like that is not proper behavior for members of the Cabinet," he said.
"We are building the nation, and this should be our focus. But how will we fix our country, how will we improve the lot of our poorest brethren? We have no time for intramurals," added the President.
Puno, who is the President's long-time friend and shooting buddy, has prominently figured in two recent inquiries, on the August 23 hostage-taking and on jueteng payola.
by.abs cbn