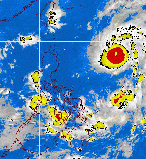 PAGASA: Juan 'intensifies, endangers N. Luzon'
MANILA, Philippines (3rd UPDATE) - Super typhoon Juan further intensified overnight as it approaches land in Cagayan province, prompting weather bureau PAGASA to raise storm signals over northern Luzon.
PAGASA said that as of 7:00 a.m. Sunday (Oct. 17), typhoon Juan had "intensified further and now endangers Northern Luzon."
The weather bureau raised storm signals over northern Luzon:
* from signal 1 to 2 over Cagayan, Isabela, Babuyan and Calayan group of islands;
* signal 1 over the provinces of Ilocos, Apayao, Abra, Kalinga, Mt. Province, La Union, Benguet, Ifugao, Vizcaya, Quirino, Aurora, Nueva Ecija, Pangasinan, Batanes.
PAGASA said Cagayan, Isabela, Babuyan and Calayan group of islands will experience "stormy weather with rough to very rough seas."
As of 7 a.m. Sunday, PAGASA said typhoon "Juan" (international name, Megi) was at 590 km east of Aparri, Cagayan. (18.7°N, 127.8°E) with maximum sustained winds of 160 kph near the center and gustiness of up to 195 kph. It was moving west at 24 kph with estimated central pressure of 958 hpa.
As of early Sunday, the weather was still not stormy in much of the north, but PAGASA expected it to worsen within 24 hours as Juan continues to move westward.
ABS-CBN's resident weatherman Kim Atienza said Juan will be "much stronger than Ondoy in terms of wind," noting that "Ondoy was only a tropical storm."
PAGASA said Metro Manila was expected to have just "cloudy with rainshowers and thunderstorms." PAGASA has forecast that the typhoon will spare the national capital region.
"The rest of northern Luzon will have rains and gusty winds. The rest of the country will experience mostly cloudy skies with scattered rainshowers and thunderstorms. Moderate to strong winds blowing from the northeast to north will prevail over rest of Luzon and the coastal waters along these areas will be moderate to rough. Elsewhere, winds will be light to moderate coming from the northeast to northwest with slight to moderate seas," PAGASA said in its 5 a.m. advisory.
Storm signals raised earlier
In its last briefing on Saturday, Department of Science and Technology (DOST) Undersecretary Dr. Graciano Yumul, Jr. said Philippine Atmospheric, Geophysical & Astronomical Services Administration (PAGASA) planned to raise storm signals over parts of northern Luzon early Sunday.
However, since typhoon Juan was moving faster and had slightly changed its direction from west-northwest to westward, Yumul said they decided to raise storm signal 1 before midnight of Saturday.
Yumul said the typhoon will definitely hit northern Luzon but will spare Metro Manila. He said the national capital region will just experience cloudy weather and some rainfall.
Due to the typhoon's large circulation, other provinces in the north which will also be affected are Kalinga, Apayao, and Ilocos Sur.
PAGASA said the consensus forecast for Juan was that it would hit the northern parts of Luzon, with majority of 7 tracking charts supporting this scenario.
"Sapul ang northern Luzon," Yumul said. If there's no change in Juan's direction, he said Metro Manila will be safe.
Cagayan-Ilocos Norte
As of 10 p.m. Saturday (Oct. 16), PAGASA said Juan was 770 kilometers (kms) east of Aparri, Cagayan (coordinates: 18.5°N, 129.7°E).
It had maximum winds of 140 kilometers per hour (kph) near the center with gustiness of up to 170 kph.
The super typhoon had picked up speed from 20 kph early Saturday afternoon to 24 kph late Saturday.
PAGASA said the typhoon can still accelerate and intensify.
It said Juan would be 260 kms east of Aparri, Cagayan by Sunday evening.
The projected track of typhoon Juan shows it will cross the provinces of Cagayan, Apayao, and Ilocos Norte.
It is forecast to hit landfall over Cagayan province on Monday morning and exit Ilocos Norte Monday afternoon.
By Monday evening, typhoon Juan should be 160 km west southwest of Laoag City, Ilocos Norte.
PAGASA advised "residents living in low lying and mountainous areas" under signal no. 1 to be alert "against possible flashfloods and landslides."
"Residents in coastal areas under signal # 1 are alerted of possible storm surges," PAGASA said.
PAGASA on red alert
As a result of this development, PAGASA weather forecaster Mario Palafox said PAGASA was "now on red alert." This means its regional offices in the north will have to conduct closer monitoring of the tropical cyclone. The weather bureau will also activate its Quick Response Teams (QRT), which may be dispatched to the affected areas.
Palafox said the initial impact of the typhoon will still be felt starting on Sunday.
The potential impacts of the the super typhoon's winds are:
* Twigs and branches of trees may be broken
* Some banana plants may tilt or land flat on the ground
* Rice in flowering stage may suffer significant damage
* Some nipa and cogon houses may be partially unrooted
* Sea travel of small seacrafts and fishing boats is risky.
Yumul said the weather bureau will be activating its conventional radar in Aparri, Cagayan starting Sunday as Juan moves closer. This will enable them to better predict the amount of rain that Juan might bring.
It is feared that the weather disturbance could drop 40 to 70 millimeters of rain per hour, nearly as much as what tropical storm Ondoy dumped on large parts of Metro Manila last year.
PAGASA's next briefing on typhoon Juan will be on Sunday at 11 a.m.
abs cbn