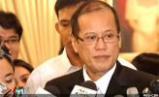 MANILA, Philippines - The Philippines is on high alert for typhoon "Juan," with President Aquino ordering forced evacuation of residents in high-risk areas like those near riverbanks and waterways as well as the taking down of billboards to ensure zero casualties.
"I have instructed the MMDA (Metropolitan Manila Development Authority) and all relevant authorities to take down billboards until the typhoon is over. Let us all work together to ensure zero casualties for the coming typhoon," the President said in a statement issued on Friday night.
Juan (international code name "Megi") was expected to become a super typhoon, government weathermen said.
As of 5 p.m. yesterday, Juan was 810 kilometers east of Northern Luzon with maximum sustained winds of 140 kilometers per hour (kph) near the center and gustiness of up to 170 kph. It was moving west northwest at 24 kph.
Juan comes more than a year after tropical storm "Ondoy" inundated many parts of Luzon, including Metro Manila, and left hundreds dead. Ondoy's devastation, the scale of which was unseen in decades, had prompted the government to do some soul searching regarding its disaster preparedness.
The President said Benito Ramos, director of the National Disaster Risk Reduction and Management Council and executive director of the Office of the Civil Defense (OCD), had already apprised officials of the need for "preemptive evacuations" in affected areas.
"I ask our countrymen in affected areas to cooperate with their village, municipal, provincial and national officials in ensuring orderly and efficient preparations. The private sector, too, can alert their employees, particularly those who are Red Cross volunteers, to be ready to help, when needed," Mr. Aquino said.
"We do not want to unduly alarm the public but there is nothing lost by being prepared," he said.
"Let us all do our part to ensure that we remain focused on proactive measures to reduce risk to populations. And I am confident our government will, once again, work hand-in-hand with the citizenry to bring out the best in all of us as we brace for the coming storm," the President said.
"We are constrained to inform the public to monitor expected rainfall levels in their areas. Pagasa (Philippine Atmospheric Geophysical and Astronomical Services Administration) has issued advisories for the public to expect exceptionally heavy rainfall in the eastern coast of Isabela-Cagayan," he said.
"It has been issuing alerts to the public and the media has been doing its part to inform the public," he added.
The President said the government would be giving hourly updates through the Pagasa website, www.pagasa.dost.gov.ph and Twitter feed, @dost_pagasa.
The Pagasa hotline is 433-ULAN.
The President said the Department of Social Welfare and Development has already pre-positioned relief goods. Disaster agencies have also been instructed to preposition rescue equipment.
"OCD Regional Operations concerned are on alert status and coordination was made with the provinces that are likely to be affected for the conduct of pre-emptive evacuation of families living in low-lying areas and near mountain slopes," Ramos of the OCD said.
"We are confident that Pagasa and the DOST (Department of Science and Technology) will continue to provide timely and useful information to the public," the President said.
Presidential Communications Operations Secretary Herminio Coloma said flood control teams and amphibious assets have already been deployed to areas likely to be affected most by Juan.
Juan is expected to batter the Cagayan Valley and the Ilocos region beginning today or tomorrow.
"AFP (Armed Forces of the Philippines) units have been alerted at battalion level to undertake civic action support," Defense Secretary Voltaire Gazmin said.
He said all means of communication down to cell phones were ready.
The Coast Guard is also under orders not to allow vessels to leave port even before the storm enters the country.
Chief Superintendent Nicanor Bartolome, newly installed chief of the 16,000-strong National Capital Regional Police Office (NCRPO), said he met with his five district directors yesterday to discuss disaster preparations.
"All district directors attended the meeting. We discussed preparations for Juan," he said.
"We placed our men on heightened alert so at least half our force will be on duty at any time. By noon (today), Metro Manila police will be on full alert," Bartolome said.
National Grid prepares for 'Juan'
Power transmission service provider and system operator National Grid Corporation of the Philippines (NGCP) is all set to activate its command centers today in preparation for the expected landfall of typhoon Juan in Cagayan and Isabela provinces.
This early, NGCP's system operations and operations and maintenance personnel in Luzon and Visayas have been enjoined to make all necessary precautions to minimize the impact of the typhoon.
To coordinate contingency measures in all NGCP facilities in the path of the typhoon, command centers at the head office, regional and district levels will be activated 24 hours before landfall.
Monitoring of grid conditions, assessment of damages, supervision over rehabilitation and restoration works, and documentation will all be done at the command centers.
All telecommunication facilities, equipment, tools and vehicles have been secured. Materials and supplies necessary for the repair of possible damages to facilities, including emergency restoration structures (ERS), have been placed in strategic locations. Groups of linemen have also been organized and prepared to be deployed at any emergency.
As part of the contingency measures, all scheduled maintenance works on NGCP facilities will also be suspended starting today.
Eye of the storm
In Cagayan Valley, the provincial government will implement pre-emptive evacuation of residents in anticipation of heavy flooding in low-lying areas particularly near the Cagayan River.
"We cannot predict the course of the typhoon, we can only forecast it. That's why all sectors in the region have been told to be prepared for the typhoon, especially in low lying areas of the region," Chief Superintendent Francisco Villaroman, Cagayan Valley police director, said.
Under close monitoring are Tuguegarao City, Enrile, Solana, Iguig, Amulung, Alcala, Gattaran, Lasam, Lallo, Camalaniugan, Aparri, Gonzaga, Santa Ana and Santa Teresita.
In Isabela, floods are threatening the towns of Ilagan, Cabagan, Tumauini, Jones, San Agustin, Divilacan, Palanan, Maconacon, Dinapugui, Echague, Alicia, Ramon, Gamu, Angadanan, Santo Tomas and the cities of Cauayan and Santiago, as well as the town of Maddela in Quirino.
In, Nueva Vizcaya, the towns of Solano, Bagabag, Bambang and Bayombong, all situated near the Magat River, are also being closely monitored.
"The provincial government has already coordinated with the various national government agencies for all precautionary measures to ensure that our people will all be in safe conditions during the typhoon. We hope and pray that the wrath of the typhoon passes through us without any casualties," Isabela provincial administrator Noel Lopez said.
In Cagayan, provincial administrator Joseph Pauig also revealed preparations for possible flash floods and landslides, including forced evacuation of residents.
"By tomorrow (today), we will be (dispatching) search and rescue teams (as well as) establishing command post around the province. Each team will include rescue crew, rubber boats (and) dump trucks as well as relief goods," he said.
Stronger than Ondoy?
While Juan may turn out to be more powerful than Ondoy, it is expected to dump less rain – or just half of Ondoy's – on affected areas.
Ondoy unleashed 370 millimeters to 400 millimeters of rain every six hours.
"It is during the last three months of the year that (the typhoons that come in) are strong, more so now that we have to consider the La Niña. But for this year, the projection is that there would be stronger typhoons that would enter the country," Pagasa deputy administrator for operations and services Nathaniel Servando. He said 10 typhoons have visited the country this year.
Meanwhile, only Magat dam is expected to benefit from Juan's rains because it is situated in Isabela. But of Luzon's dams, Magat has the least problem with water reserves.
Pagasa deputy administrator for research and development officer-in-charge Susan Espinueva said that water levels at major dams, including Magat, are still below normal. The other dams are San Roque, Pantabangan, and Angat.
The present water level of Angat Dam is 180.09 millimeters, but it needs 11.65 mm more to reach its normal level.
Pantabangan dam's present level is 194.27 mm, or 14.33 mm below the normal level.
Magat dam's water level is 183.41 mm while San Roque dam is at 250.73 mm or 24.38 mm below normal.
Pagasa said it would announce today if there would be a need to release water from the dam
phil star