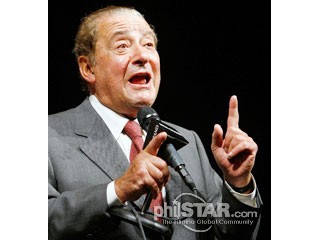 MANILA, Philippines - Bob Arum came to deliver a message as strong or even stronger than the impending typhoon.
"He better step up his training," he said of Manny Pacquiao, now catching up on his training for a Nov. 13 fight with Antonio Margarito.
"Because this guy (Margarito) poses very, very unique dangers," Arum told ABS-CBN upon his arrival from Las Vegas yesterday morning.
Arum must be aware of how many times Pacquiao had been off the road or out of the gym while training the last couple of weeks.
The ageless boxing promoter reminded Pacquiao that Margarito is in "tremendous shape" as shown in very recent pictures of his training in Oxnard.
Margarito, still trying to clear his name after being suspended last year due to illegal handwraps, has nothing to lose and everything to gain on this one.
"He is in the best shape I have ever seen. He would be a big danger for any welterweight in the world," Arum said.
"If you are Margarito and this had happened to you. You've been suspended in boxing for a relatively long time and now you get the opportunity to be in this world stage, you're gonna kill yourself to prepare," he added.
However, he said Pacquiao's tremendous speed should spell the difference
"Pacquiao is something special. No matter how big they are, Manny Pacquiao can handle them. Manny has to be able to utilize that incredible speed that he has together with his ability to punch with two hands."
Pacquiao has been trying to catch up in training the past few days. He sparred eight rounds yesterday against Michael Medina and Glen Tapia.
But the Filipino champion has complained of tightness on his shoulders, forcing his handlers to drop the isometric exercises in favor of the old program, more rounds of shadow boxing and step aerobics.
Arum flew to Baguio unaware of an impending typhoon (international codename Megi) that is expected to slash through Northern Luzon, including Baguio, tomorrow.
A travel advisory is out warning people against traveling to Northern Luzon, especially landslide-prone areas, starting today. Unless it changes direction or it softens up, the typhoon could carry maximum winds of up to 250 kph (150 mph).
A media day has been set for tomorrow but the close to two dozen scribes from Manila are being cautious about taking the six-hour bus ride to the countryís summer capital today.
Arum will fly home on Wednesday and rescheduling the media day is not an option.
phil star