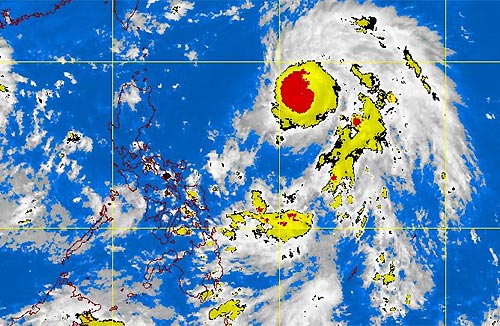 (Updated 11:56 p.m.) State weather forecasters on Saturday said typhoon "Juan" (Megi) – predicted to become a super typhoon once it makes landfall in northern Luzon on Monday – signals the start of a series of powerful storms for the remaining three months of the year.
Four areas were placed under Signal No. 1 as Juan continued on its course toward the Cagayan Valley region as of the 11 p.m. weather bulletin issued late Saturday.
Nathaniel Servando, deputy administrator of the Philippine Atmospheric Geophysical and Astronomical Services Administration (PAGASA), said that while Juan is so far the strongest weather disturbance to visit the country this year, the public can expect similar, if not more powerful, storms after it.
"Siya ang pinakamalakas so far, pero for this year ang projection namin may mga malalakas na bagyo pa na darating," Sevando said.
"Normally, during the last three months of the year, malalakas talaga ang bagyo [tapos]… may La Niña pa tayo," he added.
According to PAGASA, around 20 to 21 cyclones visit the country every year on the average. Juan is the 10th cyclone to enter Philippine territory this year.
Satellite image of typhoon Juan as of 2 p.m. of Saturday as it approaches northern Luzon. PAGASA
According to the 11 p.m. PAGASA storm bulletin, Juan continues to approach the Cagayan Valley region and was last spotted 770 kilometers east of Aparri, Cagayan. It is expected to make landfall along Cagayan's eastern coast on Monday morning. [See: 4 areas placed under Signal No. 1 as 'Juan' moves closer to RP]
Its speed has slightly picked up from 20 kph to 24 kph moving west northwest, but its maximum sustained winds grew stronger from 105 kph tp 140 kph near the center. It also packed gustiness of up to 170 kph.
"So by Monday, we are looking at 200 plus kph. Ito talaga ang nakababahala," added Secretary Mario Montejo of the Department of Science and Technology. A typhoon gets elevated as a super typhoon if its winds exceed 200 kph.
Class suspension
Retired Gen. Benito Ramos of the National Disaster Risk Reduction Management Committee (NDRMC) said the public will know by Sunday whether there will be no classes on Monday, pending the issuance of storm signal warnings on that same day. Juan's effects could be felt as early as Sunday afternoon.
"[Aalamin pa kasi natin] ang behavior kung hihina ba o lalakas. Kung humina at lumihis papaunta sa Taiwan, hindi magsu-suspend ng classes," Ramos said.
But according to forecasters, another scenario could be that instead of taking its current forecast path – entering Cagayan and exiting through Ilocos Norte toward the South China Sea – Juan may also change its direction and move southward heading Central Luzon and exit through Zambales.
"There is a high pressure area north of the typhoon that might push it southward," Servando warned.
"Kaya may scenario na bababa siya at pupunta towards central Luzon at lalabas ng Zambales, one of the scenarios," he added.
Though saying there is a "very slim chance" that it will hit Metro Manila, Servando said the typhoon will still "indirectly" affect the region.
Rainfall
PAGASA could not yet determine the exact amount of rainfall that Juan is carrying as it is still too far from the agency's nearest Doppler radar in Aparri.
The agency also has two new Doppler radars in Baler, Aurora and Baguio City, Benguet but they are out of Juan's path. PAGASA assured that the Aparri radar, while relatively old, can still gather reliable rainfall rate data.
But based on satellite images, forecasters estimate Juan's rainfall rate at 250 millimeters in six hours, already more than half of the water brought by Ondoy in September last year which stood between 370 to 400 mm.
Ramos said he has yet to meet with dam experts to determine the amount of rains that could pour into major dams in Luzon like the Magat Dam in Isabela.
Prepared
Ramos said rescue forces had already been alerted from the Philippine Army, Philippine Coast Guard, and the Bureau of Fire Protection. [See related: Palace appeals for preparation vs typhoon; cops on heightened alert]
Various government agencies are likewise preparing for any pre-emptive evacuation in areas that will be hit by Juan in Luzon, including Cagayan, Isabela, Kalinga, Apayao provinces, and parts of the Ilocos Region.
Ramos said the Department of Social Welfare and Development is prepared to distribute almost 14,000 family food packs worth P2.28 million to Mero Manila residents.
The agency also has P46 million worth of non-food items, and P2 million of standby funds.
The government has also alerted 464 quick response teams, 186 social welfare and development team, and 438 volunteers.
abs cbn