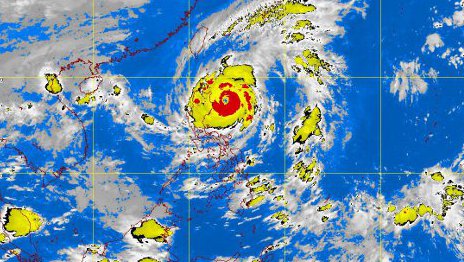 MANILA, Philippines (UPDATE 2) - Several domestic flights were canceled, rescue vessels were deployed and the whole of northern Luzon braced for the impact of supertyphoon Juan (international codename: Megi) hours before it made landfall Monday.
As of 8 a.m., the typhoon was located 150 kilometers east of Tuguegarao,Cagayan and moving in a west southwest direction at 19 kph.
The supertyphoon is packing maximum sustained winds of 225 kph near the center and gusts of up to 260 kph. It is forecast to make landfall in Northern Isabela before noon Monday and exit via Ilocos Sur.
Weather bureau PAGASA hoisted public Storm Warning Signal No.4 in Cagayan, Isabela, Kalinga, Mountain Province and Ifugao; Signal No. 3 in Batanes, Calayan, Babuyan Group of Islands, Apayao, Benguet, Quirino, Nueva Vizcaya and Northern Aurora.
Storm Signal No. 2 was hoisted in Ilocos Norte, Ilocos Sur, Abra, La Union, Rest of Aurora, Pangasinan, Tarlac, Nueva Ecija and Polillio Island while Storm Signal No. 1 was hoisted in Metro Manila, Cavite, Bulacan, Pampanga, Bataan, Zambales, Northern Quezon, Rizal, Laguna and Batangas.
For more 'Juan' updates, go to the Weather section
Emy Amad Bucaneg of the municipal planning and development office of Gonzaga, Cagayan said at least 100 families have been evacuated in Gonzaga town in Cagayan.
The Philippine Coast Guard said it has deployed two search and rescue vessels in Northern Luzon.
Air Philippines has canceled 2 domestic flights on Monday, namely: 2P-014 from Manila to Tuguegarao, and 2P-015 from Tuguegarao to Manila.
SeaAir has also canceled flights going to Basco, Batanes.
The National Disaster Coordinating Council said a landslide poured rock and debris on Cabugao National Road in Apayao province, rendering it impassable to all types of vehicles as of 7 a.m.
President Benigno Aquino III ordered all government agencies to be on high alert to prevent casualties, while the coast guard was instructed to ban all fishing vessels from setting off to sea in the north.
"The president is reiterating that all agencies concerned should be ready for the approaching super typhoon Juan (Megi)," said Abigail Valte, a deputy spokeswoman for Aquino.
She warned the public against complacency, amid reports that the weather in some northern provinces remained clear as of early Sunday.
But Norma Talosig, regional chief of the Office of Civil Defense, said the government was not ruling out forced evacuation for those who refused to leave their homes despite being told to do so.
"If we have to conduct forced evacuations, we'll do it for their safety," Talosig said over national radio. "Our main objective is the safety of the community, the safety of the responders."
In Manila, disaster officials said food packs, medicine and rescue equipment, including rubber boats, were ready in areas expected to be lashed by the typhoon.
National police spokesman Senior Superintendent Agrimero Cruz said additional search and rescue teams from Manila were en route to the north to bolster forces there.
"We have also declared a full alert status all over the country," Cruz said.
Relief charities were also mobilizing in preparation for any damage by the typhoon.
"We have prepositioned goods as well as a standby supplier for rice in case people will be evacuated here in Isabela. We will continue to monitor the typhoon," said Fe Olonan, World Vision program manager in Isabela -- a province of Luzon which is on high-alert.
The Philippines is battered by an average of 20 typhoons a year, some of them deadly.
Tropical Storm Ketsana and Typhoon Parma struck the northern Philippine island of Luzon within a week of each other in September and October last year, triggering the worst flooding in recent history.
The twin storms killed more than 1,000 people, affected nearly 10 million and caused damage worth 4.3 billion dollars according to the World Bank and international humanitarian agencies.
The US Navy's Joint Typhoon Warning Center in its latest advisory Sunday said "Juan" had undergone "rapid intensification", but could weaken as it moves across mountainous terrain after hitting Luzon.
Juan would then begin to steadily re-intensify as it leaves the country heading for the South China Sea, it said. With Agence France-Presse
Source: http://www.abs-cbnnews.com/nation/10/17/10/supertyphoon-juan-nears-northern-rp