Here are 5 reasons why Lebron James will never be Michael Jordan?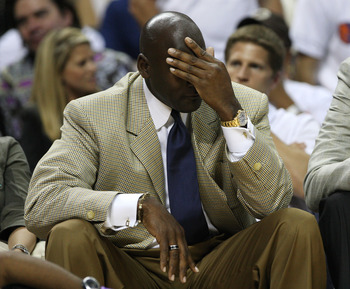 1.) ... LeBron is the most talented, athletic player the world has ever seen, but he's still not the best player in the NBA. And hey, if he signs with Miami, as the latest reports suggest, LeBron might not even be the best player on his own team.
2.) ... MJ would never put his "brand" in the same neighborhood of relevance as his ability to win championships. That's exactly what LeBron has done during this free agent process. It's not enough to position himself for titles; he has to make sure his "brand" isn't diminished in the process. Oddly enough, Jordan owns one of the most recognizable brands of athletic gear on the planet.
3.) ... Jordan was a stone cold killer. He'd do whatever it took to win a basketball game, and he'd rise to the most crucial of occasions. He was a tenacious defender because getting beat off the dribble was an insult to him. He took losing personally. LeBron, when the Cavs were thoroughly dismantled by the Celtics in last season's playoffs, looked like he was thinking about the mission statement for his marketing company.
4.) ... Jordan was too sure of himself to bite his fingernails. Hey, I'm a nail biter, have been my whole life. You know how I'm feeling when I incessantly nibble on my fingers? Nervous, anxious and unsure. So, when LeBron is biting his fingernails during a timeout, I assume that's what he's feeling, too.
5.) ... Jordan led his team by example and never talked about his burden as a leader. He didn't need to prove anything or make himself out to be anything he wasn't. LeBron has talked about his role as a leader on countless occasions, but has proceeded to lead Cleveland to zero NBA titles.
Dustin Hockensmith, The Patriot News