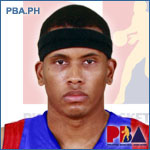 Name:
Rafi Reavis
Jersey Number:
4
Team:
Derby
Ace
Birthdate:
1977-07-26
Birthplace:
New York
Height:
6'8"
Weight:
210 lbs.
Position:
Center
Draft(Year):
2nd
overall by Coca-Cola (2002)
College/University:
Coppin State University
Rafael Pangilinan "Rafi" Reavis
(born July 27, 1983 in New York,
USA) is a Filipino
professional basketball player currently playing for the Derby Ace Llamados. He is known for his good shotblocking
abilities. Reavis, at 6'10, is among the most reliable big man in the
league he averages 19.8 ppg 12.1 rpg.
The 2003 Most Improved Player has given the Purefoods
Tender Juicy Giants's frontline a different look during his entry to
the team with his defensive skills and rebounding abilities.
Controversial
trade to Ginebra
He had a good run during his time with the Coca-Cola Tigers before being involved in one of the most
controversial trades in PBA history. The trade
involved Rudy Hatfield, Billy
Mamaril, Aries Dimaunahan, and Ervin
Sotto.
Ginebra to Purefoods
Multi-player deal trade
Barangay Ginebra traded Paul
Artadi, Rafi Reavis, and the rights to 2009 8th pick overall Chris Timberlake for Enrico Villanueva, Rich
Alvarez, Celino Cruz, and Paolo
Bugia of Purefoods. Burger King acted as the conduit team, trading Pocholo Villanueva to Ginebra and acquiring the rights
to 2009 Rookie draft 18th pick Orlando Daroya
and future picks.
Awards
2003 Most Improved Player