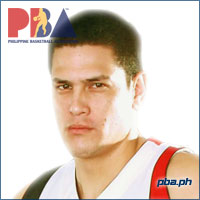 Name:
Anthony dela Cruz
Jersey Number:
35
Team:
Alaska
Birthdate:
1978-08-24
Birthplace:
West Covina, Califronia, USA
Height:
6'4"
Weight:
200 lbs.
Position:
Forward
Draft(Year):
Direct
hire by Shell (1999)
College/University:
University of Califronia, Irvine
Anthony Bryan B. Dela Cruz
(born on August 24, 1978 in California,
USA), better known simply as
Tony Dela Cruz
,
is a Filipino professional basketball player for
the Alaska Aces in the Philippine Basketball
Association.
Dela Cruz is a Fil-American who had a stint in the US NCAA and was
named as Shell's direct hire recruit in 1999. He became a legitimate PBA
All-Star player with the Shell Turbo Chargers and was dealt to the Aces prior
to Shell's exit from the PBA before the start of the 2005-2006 season.
He can play multiple positions and is popular among fans and
well-liked by fellow players. Dela Cruz can put the ball on the floor
and drive to the basket when needed but prefers to catch and shoot from
midrange, from about 10 to 15 feet. He is also a former member of the RP
Natio