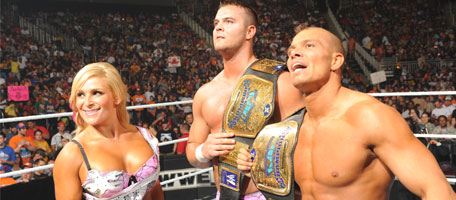 KANSAS CITY, Mo. –
The Hart Dynasty continued their reign as Unified Tag Team Champions at
Money in the Bank. With the devoted Natalya
in their corner, Tyson Kidd & David
Hart Smith defeated Jimmy & Jey
Uso, who were accompanied by Tamina.
(PHOTOS)
In an extremely physical match between the fueding families, The Usos
came close to a win after executing the Alley-Us on Kidd. But Tamina's
distraction from the apron backfired when Natalya intervened, allowing
Hart Smith to lock in a flawless Sharpshooter on Jimmy
Uso, who tapped out, allowing The Hart Dynasty to retain the
Unified Tag Team Championships.
The Usos have been determined to prove they're WWE's most superior
family and that the Samoan heritage and the Anoa'i bloodline they've
been passed on is better than that of Canada's legendary Hart Dynasty.
The Usos have been at odds with the pink and black for weeks, all in a
quest to finally secure their first Unified Tag Team Titles. These two
distinct families' competitive natures have been escalating since the
Usos and Tamina debuted a few months ago.
Family warfare further intensified in recent weeks on Raw with
attacks by The Usos & Tamina on Kidd, Hart Smith & Natalya. Most
recently, the devious Samoans sent a strong message to The Hart Dynasty
by defeating them in a Six-Person Tag Team Match. But when it mattered
most, it was the dedicated Canadian threesome who proved to have the
strongest family ties at Money in the Bank in Kansas City's Sprint
Center. The Hart family's legacy lived on as they retained their Unified
Tag Team Championships again over The Usos.