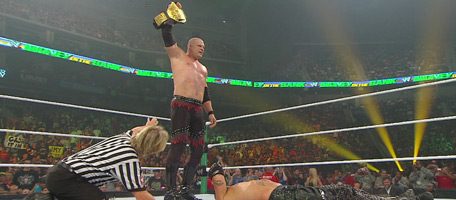 KANSAS CITY, Mo. –
At Money in the Bank, World Champion Rey Mysterio overcame the relentless wrath of Jack Swagger, only to lose his freshly-defended
title to SmackDown
Money in the Bank winner Kane
in a stunning turn of events. As a result, The Big Red Monster walked
out of the innovative new pay-per-view the World Heavyweight Champion! Match
photos
Despite being visibly injured from the back-to-back SmackDown
assaults suffered at the hands of Swagger, Mysterio ultimately triumphed
over his ultra-aggressive adversary. By loosening his boot at a crucial
moment, Mysterio was able to break free of Swagger's ankle lock, using
his amazing athleticism to get the quick pin on his opponent.
Seconds after Swagger failed to recapture his "greatest trophy,"
however, the furious former World Champion attempted to inflict further
damage to the victorious Ultimate Underdog with a post-match ankle lock
of destruction.
Just when it looked like things were hopeless for Mysterio, an irate
Kane stormed down to the ring and attacked "The All-American American."
But, after chasing Swagger from the ring, The Big Red Monster shocked
the WWE Universe, returning with his Money in the Bank briefcase to cash
in his Money in the Bank contract. With an earth-shattering tombstone,
Kane scored monumental victory that would cast a Big Red shadow of fear
over both the World Title and SmackDown.
Kane has been on an uncontrollable rampage since he found his
brother, The Undertaker, in a vegetative state over Memorial Day
weekend. And when Jack Swagger set out to make the WWE suffer with his
excruciating ankle lock – launching assaults on both Mysterio and Big
Show - Kane accused him of attacking The Phenom. Two days before
Money in the Bank, when Swagger tried to make Kane the third victim of
his devastating ankle maneuver, it was Mysterio who emerged to hit the
619 on his No. 1 contender and save Kane. No one in the WWE Universe
could have foreseen that Kane would return the favor, only to take
advantage of the moment for his own frightening glory.
In a few short hours, the explosive nature of the Money in the Bank
pay-per-view turned SmackDown completely upside-down. Kane made history
by becoming the first Superstar to ever cash in a Money in the Bank
title opportunity on the same night that he won it. But, as the
triumphant Kane returns to Friday night after a nearly two month
rampage, could the horrific predator become the prey of the 619?
WWE.DoubleClick.renderAd('300x600,300x251');