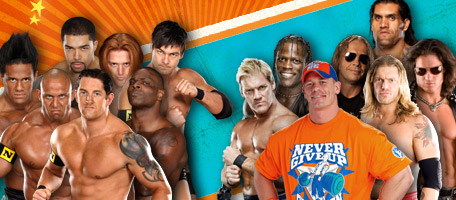 The intense rivalry between The Nexus and the Raw locker room has gotten increasingly heated this summer. It only makes sense, then, that an assemblage of Raw's most battle-hardened warriors will put aside their differences when they face off against the vicious season one NXT Rookies in a 7-on-7 Tag Team Match at SummerSlam, summer's hottest event.
Not only will Edge, Chris Jericho, R-Truth, John Morrison and The Great Khali join John Cena to quell this growing threat to Raw, but former Raw General Manager and WWE Hall of Famer Bret "Hit Man" Hart will stand alongside the seven-time WWE Champion in this momentous bout that is sure to shake the WWE Universe to its core.
When they made their explosive debut on Raw, The Nexus targeted then-WWE Champion Cena to send a clear message to the WWE Universe: NXT's first graduating class is a force to be reckoned with. The group – led by NXT season one winner Wade Barrett – soon widened their scope of savagery to include the entire Raw roster because, as Barrett proclaimed, "If you're not Nexus, you're against us."
Not content with roughing up Superstars, The Nexus turned their aggression on Raw's former GM Bret Hart, viciously assaulting the Hall of Famer in a parking lot demanding and that he grant them WWE contracts. With The "Hit Man" out of the equation, WWE Chairman Mr. McMahon – in a move that he thought would sate the group's thirst for destruction – replaced Hart with an anonymous new GM, who immediately hired The Nexus to Raw. Big mistake.
In a blatant display of disrespect, The Nexus brutalized Mr. McMahon later that night, going on to send shockwaves throughout the WWE Universe when they decimated WWE Legends such as Arn Anderson, Jerry "The King" Lawler and Ricky "The Dragon" Steamboat, showing that there are no lines the furious upstarts won't cross.
Just one night after costing Cena the WWE Championship at Money in the Bank, The Nexus boldly declared that they'd end their invasion of Raw if Cena joined their ranks. But the seven-time WWE Champion had a bombshell of his own to drop: He's been forming a team to challenge the rebel faction at SummerSlam – a squad determined to make sure The Nexus will not go down in history, but rather ensure that the arm-banded warriors simply are history.
Can Cena's team topple The Nexus once and for all? Or will the rebellious NXT season one Rookies continue to tighten their vise-like grip on Monday Night Raw? Find out by tuning in to SummerSlam on Aug. 15, only on pay-per-view.
Click here to find out more!
Pay-Per-View Schedules