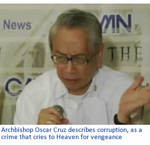 September 25, 2010, 9:56pm
MANILA, Philippines — Like a rock firmly rooted on the ground, retired Lingayen-Dagupan Archbishop Oscar Cruz swears that he can defend his exposé on jueteng before God and men.
Stung by the statement of businessman Antonio "Tonyboy" Cojuangco that his jueteng claims were "unsubstantiated," the former president of the
Catholic Bishops' Conference of the Philippines said his exposé is corroborated by several "reliable sources" from the government itself.
"The evidence against jueteng lords and jueteng payola, these are all first-hand (information) from witnesses. It is all seen. There is no paper trail, no receipt, no voucher. All you have are first-hand accounts from witnesses," Cruz said.
He said his information was from government agents themselves – the Philippine National Police (PNP), the Department of the Interior and Local Government (DILG), the National Bureau of Investigation (NBI), and from different dioceses.
Cojuangco, the maternal uncle of President Aquino, has said that he did not bother for lack of evidence to provide his nephew the list that Cruz gave him detailing those supposed to be receiving bribes from jueteng operators.
At the Senate hearing on the jueteng controversy, it was revealed that Cruz and Cojuangco had met in the former's office to discuss the prelate's claims that some government officials were in the payroll of the operators of the illegal numbers game.
In that meeting, Cruz said Cojuangco asked him to go easy on his jueteng expose. Cruz related that he gave Cojuangco the list of jueteng beneficiaries, which he stressed to the businessman that it was based on first-hand information from witnesses.
Although the meeting between the two was supposed to be hush-hush, it surfaced when Senator Jinggoy Estrada brought asked Cruz about it during the Senate probe.
"I told him, I'll give you this list, before God and conscience, nobody would know about this, just the three of us (including God) and we shook hands on that," he said.
"If I had doubts about the list, I wouldn't have any second thoughts of giving it to him. That list was confidential. I was thinking it could at least the President know who are on the take from jueteng," Cruz said.
In New York where he was part of the President's delegation, Cojuangco refuted Cruz's claims that the Church official has evidence on jueteng.
He said he did not bother to give the President the list that Cruz gave because it was not backed up by hard evidence.
manila bulletin