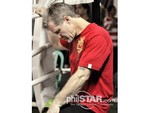 MANILA
, Philippines – After carefully studying Antonio Margarito's fight tapes, trainer Freddie Roach pointed to poor fundamentals as a major drawback in the Mexican roughhouser's style and said the other day his lack of ring generalship will make it easy for Manny Pacquiao to score a knockout in their 12-round bout for the WBC superwelterweight title at the Cowboys Stadium in Arlington, Texas, on Nov. 13.
"Margarito has no control of the ring," noted Roach. "He has little foot movement. He doesn't cut the ring off. Instead, he follows his opponent around. I don't see sound fundamentals. His strong point is a good chin, a better chin than Ricky Hatton. But he quits - something he showed in the Sugar Shane Mosley fight."
What makes Margarito dangerous is he's got nothing to lose and everything to gain. And he's desperate to straighten out his career tainted by a suspension stemming from a finding that his handwraps contained traces of sulfur and calcium to form a hardened plaster in the dressing room before the Mosley fight in January last year.
"If he wins (over Pacquiao), all of a sudden, he's up there," said Roach. "I think he got away with just a slap on the wrist for his loaded handwraps. The sentence was kind to him. Of course, he knew his handwraps were loaded. How could anyone not know he's weighed down by a brick? Luis Resto and Panama Lewis served three years in prison and were banned for life when it was proved they conspired to pad handwraps in the Billy Collins fight. I'm assuming Margarito used loaded handwraps when he knocked out Miguel Cotto. Margarito came back from his suspension last May and is now fighting Manny - that's getting off lightly."
Because Margarito is known for his dirty tricks, Roach said it wouldn't be smart for Pacquiao to stay on the ropes and invite the Mexican to bang away. Pacquiao used the rope-a-dope trick on Cotto who took the bait, abandoned his left jab and bore in only to absorb a brutal beating en route to a 12th round technical knockout loss in Las Vegas last year.
"Margarito's an in between a Cotto and an Oscar de la Hoya," said Roach. "Manny won't fight him like he did Cotto. Margarito's a dirty fighter. He'll do whatever he can to win. He'll throw low blows, butt and elbow. Manny's watched tape, too. We compared notes about his habits and we observed the same things. We've talked about our gameplan and we'll develop it as we go along in training camp."
Roach said he has nothing against Margarito but didn't appreciate his comments about Pacquiao during a recent press conference in Dallas.
"He likened his handwraps issue with (Floyd) Mayweather's accusation of Manny taking performance enhancing drugs," said Roach. "Wait a minute. Margarito got caught. Manny was accused but nothing was substantiated because he doesn't do drugs. There's a big difference between his issue and Manny's. When I mentioned the Tijuana Tornado would get downgraded to a tropical storm, he stared me down."
Roach said Margarito's 4 1/2- inch height advantage doesn't worry him.
"Size doesn't win fights," he explained. "Speed kills and Manny's just too fast for Margarito. It's easier to bring down a bigger guy than a smaller guy or someone who's your size. Margarito's not a mover. Besides, we still don't really know if he can punch. I've talked to three guys who've sparred with him and they're giving me different impressions. Rashad Holloway sparred with Margarito and broke his eye socket. One guy, Zavala, swore Margarito can't punch after sparring with him but another guy, the Scottish kid Craig McEwan, told me he hits like a hammer. Whatever, we'll be ready. Margarito is a volume puncher, he's no Joshua Clottey. He'll keep Manny busy."
Roach said he expects the first four rounds to be explosive.
"We'll see a very competitive first four rounds," he said. "Margarito will come out attacking. Then, Manny will start breaking him down with his power and speed. He won't be able to handle Manny's speed. He'll begin feeling Manny's power and remember, he cuts easily. Manny will go on to beat him up badly. I think it'll be over by the eighth round."
Margarito, 32, is coming off a unanimous 10-round decision over Roberto Garcia for the vacant WBC International superwelterweight crown in Aguascalientes, Mexico, last May. Garcia was floored in the first round and was never in contention as the judges scored it 100-88, 99-90 and 99-89. Margarito's record is 38-6, with 27 KOs compared to Pacquiao's 51-3-2, with 38 KOs.
Pacquiao, 31, has won his last 12 fights, eight inside the distance, and hasn't lost since dropping a decision to Erik Morales five years ago. If he beats Margarito, Pacquiao will set a new record by capturing his eighth world title in eight different divisions.
phil star