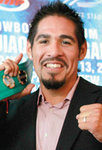 MANILA, Philippines — Antonio Margarito doesn't worry about Manny Pacquiao.
"I am not really concerned about him as long as I train hard," Margarito told the Bulletin in an interview on Thursday that was facilitated by Top Rank publicity ace Ricardo Jimenez.
Emerging from a four-round sparring session in Oxnard, California, Margarito stressed that he "is bigger and stronger" than Pacquiao and that on the night of Nov. 13 at Cowboys Stadium in Dallas, he will score a stunning knockout win.
"It's a question of putting a lot of pressure on Pacquiao," said Margarito when asked about his gameplan. "In this weight, I am stronger than him."
Pacquiao and Margarito are squaring off at a catchweight of 150 lbs in a 12-round match for the vacant World Boxing Council super-welterweight crown.
Margarito has been deep in training the past three weeks and has sparred a total of eight rounds under the watchful eyes of chief trainer Robert Garcia.
"I feel confident of knocking him out," said Margarito, who is a 5-1 underdog.
The 5-11 Mexican has a five-inch height advantage over Pacquiao, who will be gunning for an unprecedented eight world title.
Margarito said he has what it takes to derail this bold by Pacquiao, widely regarded as the world's No. 1 fighter, regardless of weight, and send the entire Philippines in a state of national mourning.
"I have a lot of respect for the Filipino people but I am sorry to tell them that I will be the one who will win this fight," said Margarito.
abs cbn