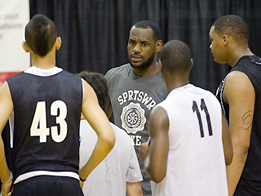 NEW YORK —The NBA salary cap for next season has been set at $58.04 million, a higher number than projected that could help the Miami Heat fill out a roster around Dwyane Wade, Chris Bosh and perhaps even LeBron James.
The cap goes into effect on Friday, ending the league's moratorium period and allowing free agent contracts to be signed.
It's a slight increase from this season's $57.7 million cap, a surprise for teams considering what they were bracing for last summer.
Teams were warned in a memo last July that the economic crisis could send the cap spiraling to somewhere between $50.4 million to $53.6 million, some $10 million below what teams were once anticipating.
Apparently, the league underestimated its revenues.
Commissioner David Stern said in April the league was projecting the cap to come in at $56.1, a result of creative work by teams in selling tickets and sponsorships that drove up revenues, and the number announced on Wednesday even surpassed that.
The nearly $2 million more could be key for the Heat if they are able to persuade James to join Wade and Bosh, who announced on Wednesday they plan to sign with Miami. The cap has no bearing on their first-year salaries in a maximum contract, which would be $16.6 million.
It means the New York Knicks have about $36 million to spend before contracts are signed, leaving them about $18.9 million left after Amare Stoudemire signs an expected five-year, $99.7 million deal.
The midlevel exception is $5.8 million and the tax level is $70.3 million. Any team that exceeds that will have to pay a $1 tax for every $1 it is over.
The minimum team salary is $43.5 million, 75 percent of the cap.
Associated Press