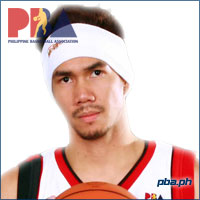 | | |
| --- | --- |
| Name: | Cyrus Baguio |
| Jersey Number: | 3 |
| Team: | Alaska |
| Birthdate: | 1980-08-19 |
| Birthplace: | Iligan City |
| Height: | 6'2" |
| Weight: | 180 lbs. |
| Position: | Guard/Forward |
| Draft(Year): | 14th overall by Red Bull (2003) |
| College/University: | University of Santo Tomas |
Cyrus Baguio
is a professional basketball player in the Philippine Basketball
Association for the Alaska
Aces. He is a former stalwart of the UST Growling Tigers during his college tenure with
the team. He is also an AND 1 endorser.
The guard is known for his dunks and acrobatic moves, thus his
moniker "Skyrus." He was drafted by Red Bull in
2003 as the fourteenth overall. Before the draft, many basketball
pundits were expecting him to be a first round draftee because of his
illustrious college career at University of Santo Tomas. But
during draft day, he was only picked in the second round causing a shock
to many basketball observers.
During his rookie year, he played the support role but did well.
Slowly, after Red Bull traded away its main men like Willie
Miller, Kerby Raymundo, Lordy
Tugade, Enrico Villanueva, and Mick
Pennisi, Baguio then emerged as the team's leading scorer and main
skipper. The then-budding PBA superstar proved that he was worth a
player.
He led his team in scoring and in other departments during his time
with Red Bull.
And on his last year with the team, he ended his stint still scorching
the net by being among the top 10 leading scorers in the league, and by
being an All-Star caliber player. During the latter part of the 2008-09 PBA season, he along with
Red Bull teammate Celino Cruz were traded to the Air21 Express for future picks.
This trade then led Yeng Guiao to resign as Red Bull coach.
In 2008, Baguio was named into the National
Team under his former mentor in Red Bull,
Coach Yeng Guiao.
In 2009, Baguio, reportedly unhappy with his tenure in Burger King,
was dealt to the Barangay Ginebra Kings. He became
part of the talented backcourt of the Gin Kings, together with National
Teammate Jayjay Helterbrand, Mark
Caguioa and Ronald Tubid. He was then with his class 2003
batchmates, Enrico Villanueva, Sunday Salvacion and Ronald
Tubid.
Baguio, led the Powerade Team Pilipinas into its 8th place Tianjin
cruise. He is the revelation of that Team Pilipinas, that wowed,
international basketball fans.
On April 30, 2010, Baguio, reportedly unhappy with the Barangay Ginebra Kings due to lost in
rotation was traded to the Alaska
Aces for all-star Willie
Miller. In his debut with the Alaska
Aces, He sparked a fourth quarter rally by playing tough defense,
hustles and scoring 12 of his 14 points in the final canto to help his
new team to a come-from-behind win over his former team, the Barangay Ginebra Kings.
Achievements


2004 PBA Slam Dunk Champion

2007-2008 PBA Most Improved Player

2007-2008 PBA Mythical Second Team