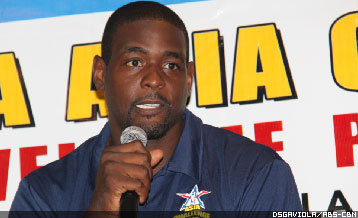 MANILA, Philippines – NBA stars Gary "The Glove" Payton and Chris "C-Webb" Webber, who are in town for the NBA Asia Challenge 2010, also had some things to say about another sport—boxing.
The former All-Stars commented on the much-clamored bout between Manny Pacquiao and Floyd Mayweather, Jr. even as fight negotiations were derailed for the second time.
Payton and Webber, however, had opposing choices as to who they think will prevail in the blockbuster showdown.
"It's gonna be hard," Payton told reporters during the welcome press conference on Tuesday at the Dusit Thani Manila Hotel in Makati City.
"They're both quick… but Mayweather is more defensive," the 9-time All-Star said. "Pacquiao is not as good as a defensive [boxer]."
Despite siding with his fellow American, Payton wished for the well-being of both fighters should they agree to a face-off.
"I hope nobody would be knocked out," said the 42-year old, the only point guard who was named Defensive Player of the Year in 1996.
Webber, for his part, said that Pacquiao is "the man."
"It would be a great fight," Webber told TJ Manotoc of ABS-CBN News.
For the fans
Payton and Webber headline the 2nd NBA Asia Challenge, an exhibition game which features 2 teams each with a mixed roster of NBA Legends, NBA Development League (D-League) players, PBA Legends and current PBA cagers.
"We're gonna have a lot of fun. We're gonna play hard," Webber told abs-cbnNEWS.com. "We're gonna get the people very excited."
Six-time NBA All-Star Mitch Richmond and 3-time NBA All-Star Glen Rice complete the NBA Legends lineup.
Gary Payton (Photo by Dennis Gaviola, abs-cbnNEWS.com)
The D-League players are Richie Frahm of the Reno Bighorns, Darnell Lazare of the Maine Red Claws, Chris McCray of the Sioux Falls Sky Force and Mark Tyndale of the Iowa Energy.
The participating PBA Legends are Allan Caidic, Ronnie Magsanoc, Alvin Patrimonio, Benjie Paras, Vergel Meneses and Atoy Co while the current PBA players are Arwind Santos, LA Tenorio, Ronald Tubid, Rico Maierhofer, Dondon Hontiveros and Asi Taulava.
While the cagers expressed their excitement about playing alongside American and Filipino basketball legends and stars, Payton joked: "I'm not looking forward to playing against these guys."
"I might go up the stands," he added.
Webber, a 5-time All-Star, mentioned that he is looking forward to seeing Filipino fans.
But the 6'10'' superstar cautioned that he may not be able to dunk at the age of 37.
"I'm expected I'm gonna try to do that," he said, eliciting laughter from members of the press.
The NBA Asia Challenge 2010 will be held on Friday, 7:30 p.m., at the Araneta Coliseum in Cubao, Quezon City. – Report by Ma. Rosanna Mina, abs-cbnNEWS.com; with reports from Dennis Gaviola, abs-cbnNEWS.com and TJ Manotoc, ABS-CBN News