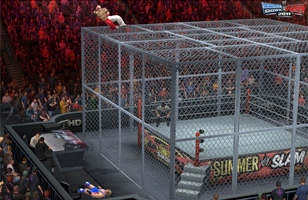 The newly-rebuilt Hell in a Cell Match provides a whole new experience for WWE SmackDown vs Raw 2011 players
THQ has announced new gameplay details on WWE SmackDown vs. Raw 2011, which will return to action with destiny-defining moments, best-in-class creation tools and the ability for players to have ultimate virtual control of WWE.
WWE SmackDown vs. Raw 2011 will empower players more than ever to define their gameplay experiences in a dynamic and ever-changing WWE.
In WWE Universe Mode, a new addition to the franchise, gameplay scenarios will change based on player decisions, allowing for new rivalries, alliances, championship matches and more spontaneous WWE action in and out of the ring.
Additionally, the popular, story-driven Road to WrestleMania® mode will return with significant updates and new storylines, including the ability to freely roam through locker room areas, select opponents, break into impromptu matches and fulfill destinies based on player choices.
A hallmark of the franchise, WWE SmackDown vs. Raw 2011 will deliver its largest offering to date of best-in-class creation and customization features. Players will have more creative tools than ever to customize their created Superstars, finishing moves, story designs, paint tool creations and more. Searching and sharing content will be greatly simplified through improvements to the highly regarded WWE Community Creations feature, which generated nearly 10 million downloads in its franchise debut.
WWE SmackDown vs. Raw 2011 will also boast one of the largest rosters in franchise history with more than 70 of today's prominent WWE Superstars and WWE Divas. Each in-game model will feature new skin textures and movement technology, delivering the most authentic looking and moving WWE Superstars and WWE Divas ever seen in a WWE videogame.
In addition, players will round out their virtual WWE experience with more than 100 match types, including Tables, Ladders & Chairs (TLC), Hell in a Cell and Money in the Bank, as well as an extensive number of new playable arenas. A brand new physics system will ensure all matches and object interactions look and feel unique, dynamic and unpredictable to capture the full essence and authenticity of WWE.
WWE SmackDown vs. Raw 2011 will also boast the franchise's largest online feature set to date, including a robust downloadable content (DLC) plan slated to include playable WWE Superstars, WWE Divas, alternate ring gear and new arenas.
Online access and the game's first DLC package, which is scheduled to include WWE Superstar Chris Masters (playable character), WWE Superstar Rey Mysterio ("Dia de los Muertos" Halloween-themed attire) and WWE Diva Kelly Kelly ("Devil" Halloween-themed attire), will be free of charge with the video game through a back of manual code for first-time purchasers. Second-time buyers can also purchase the content via Xbox LIVE® Marketplace for Xbox 360 and on PlayStation®Network. Additional DLC packages, as well as their suggested price points will be revealed later this year.