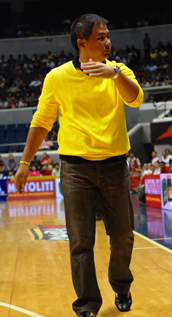 Multi-titled Philippine Basketball Association (PBA) coach and former all-pro national team mentor Chot Reyes is more than willing to help the Smart-Gilas national developmental team.
Rajko Toroman
The team, to be handled by Serbian mentor Rajko Toroman and composed of the country's top collegiate and amateur players, will compete in three major international tournaments this year – the Manila Invitational, the annual William Jones Cup in Taipei and the Asian Games in Guangzhou, China.
Toroman, who steered Iran to a first-ever FIBA Asia Championship crown, is seeking the PBA's help to allow former league most valuable player (MVP) Kelly Williams and 2008 Rookie of the Year Ryan Reyes to join the Smart-Gilas team in the Asiad this November.
"We really like to get Williams and I've told that several months back. As far as Ryan Reyes, I wil have to see if Chris Banchero will be able to join us or not," Toroman told GMANews.TV.
Banchero, the Filipino-Italian player who impressed Toroman and the rest of the national team aspirants during their tune up game in the United States, wants to play for the squad but is not sure whether or not he could come in this year.
"Chris' mother don't want him to study here, so it's uncertain if he will be able to join us this year," said Toroman.
There's no problem with us loaning players to Gilas for the Asian Games. We're willing to sacrifice for the country, but we want the cooperation of the PBA as well.
– Talk 'N Text coach Chot Reyes
If ever Banchero won't be able to join Smart-Gilas in the Asian Games, Toroman will most likely tap a third point guard.
And Reyes might be a logical choice to help out Mark Barroca and JV Casio.
"We really need a third point guard for security purposes because JV Casio got injured last time around and we were really decimated at the point. Reyes might be a big help," said Toroman.
If ever Williams will be included, Toroman believes he won't be needing an additional big man, especially if Marcus Douthit will make a good impression.
"I've heard a lot of good things about him," said Toroman. "A friend of mine, who is coaching in Europe told me that Douthit does everything asked of him by the coach. He's very coachable. I expect the same thing with him."
Douthit arrived only recently and joined the team's practice session Tuesday night.
Douthit, the Los Angeles Lakers' second-round choice in the 2004 Rookie Draft, will be Smart-Gilas' new import prospect after three failed bids to get a reinforcement willing to be naturalized.
Reyes wants PBA's cooperation
Reyes, who handled the all-pro national team to the 2007 FIBA Asia Championship in Tokushima, is seeking the cooperation of the PBA.
"There's no problem with us loaning players to Gilas for the Asian Games. We're willing to sacrifice for the country, but we want the cooperation of the PBA as well," said Reyes.
Chot Reyes
Reyes, whose PBA team Talk 'N Text established a franchise-best 13-game winning streak, said that the PBA can make an arrangement or give a little leeway to their squad if ever they released Williams and Reyes temporarily to Smart-Gilas.
"They can arrange of not giving us a schedule at a time when Smart-Gilas is still playing in the Asian Games," said Reyes.
The four-time Coach of the Year awardee cited the case in 1994 when he was still coach of Purefoods and his three stalwarts – Alvin Patrimonio, Jerry Codiñera and Rey Evangelista - were loaned to the RP team coached by Norman Black in the Hiroshima Asiad.
Purefoods was able to skip the elimination round and was seeded to the next round.
"They can do that as long as they want it," said Reyes.
Two other PBA champion coaches and ex-national team mentors Tim Cone and Jong Uichico have their reservations in terms of loaning players.
If ever Smart-Gilas ask for their help, will they help out our national developmental team?
"I have my reservations as I want to help them out. But it's not a simple yes or no answer. It's a very complicated matter," said Cone. "My decision may not be right for the management. I believe that it's really a management decision when it comes to loaning of players."
"While I have a soft spot in terms of helping the national team, I should be protective, too, of my player, whoever will be loaned to the RP team There are many questions to be raised such as how long will he play for the team? Who will take care of his salary? What happens if he gets injured? These things should all be considered," added Cone, who led the RP Centennial team to a bronze-medal finish in the Bangkok Asian Games.
For Uichico, he will simply do whatever is the decision of the management.
"If they (management) ask me to loan a player, what can I do? I mean, I'm just a coach who handles a team while management is the one running the team. Of course, there's no question that I really want to help, but it's really up to the management," said the RP coach for the 2002 Busan Asian Games.
Rey Joble, GMA News.TV